Jeanneau continues to set a firm course for the horizon with the launch of three new boat models that seek to complete its wide range of sailing and motor boats. The prestigious yacht builder will present these innovative monohulls at next year's boat shows.
We will have to wait a few months to meet them live, but the French company of which Náutica Chacón is a representative in Fuerteventura and Lanzarote has already advanced its news. Here's a preview for you.
Jeanneau's first bet in the field of motor boats is the Merry Fisher 1295 Fly. It's a vessel that combines elegance and comfort.
Its exteriors stand out for the new panoramic window in the hull, while its interiors conquer passengers with great comfort thanks to three premium cabins. Comfort is guaranteed during both navigation and at anchor.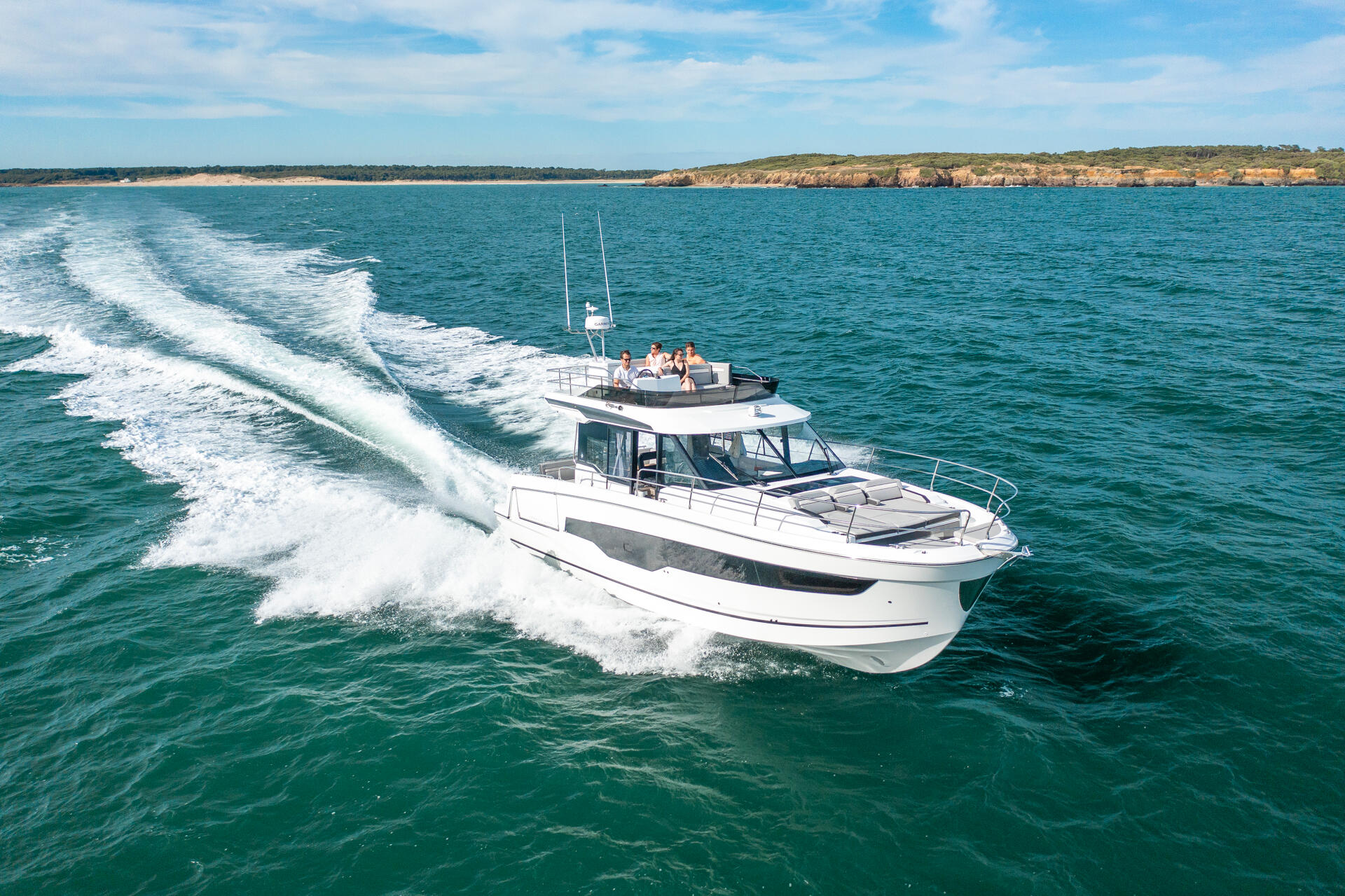 This new model concentrates on-board living areas specially designed for resting with family and friends.
Outside, it leaves room to swim and to spend time with your feet in the water in the aft cabin, thanks to the very spacious electric sundeck to starboard. To port, a large gangway makes it easy to board all your guests.
At the bow, relax comfortably in one of the three built-in loungers. Moments of leisure 100% guaranteed!
For those who love enjoying good times, take advantage of the fully equipped flybridge to drive at full speed, sunbathing in total privacy and enjoying a cocktail overlooking the sea at the end of the day.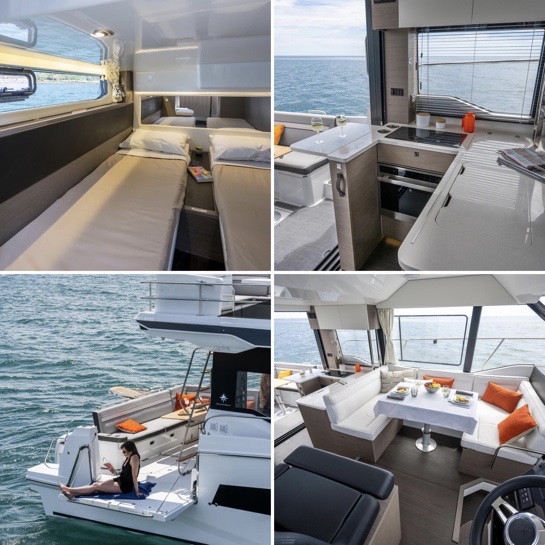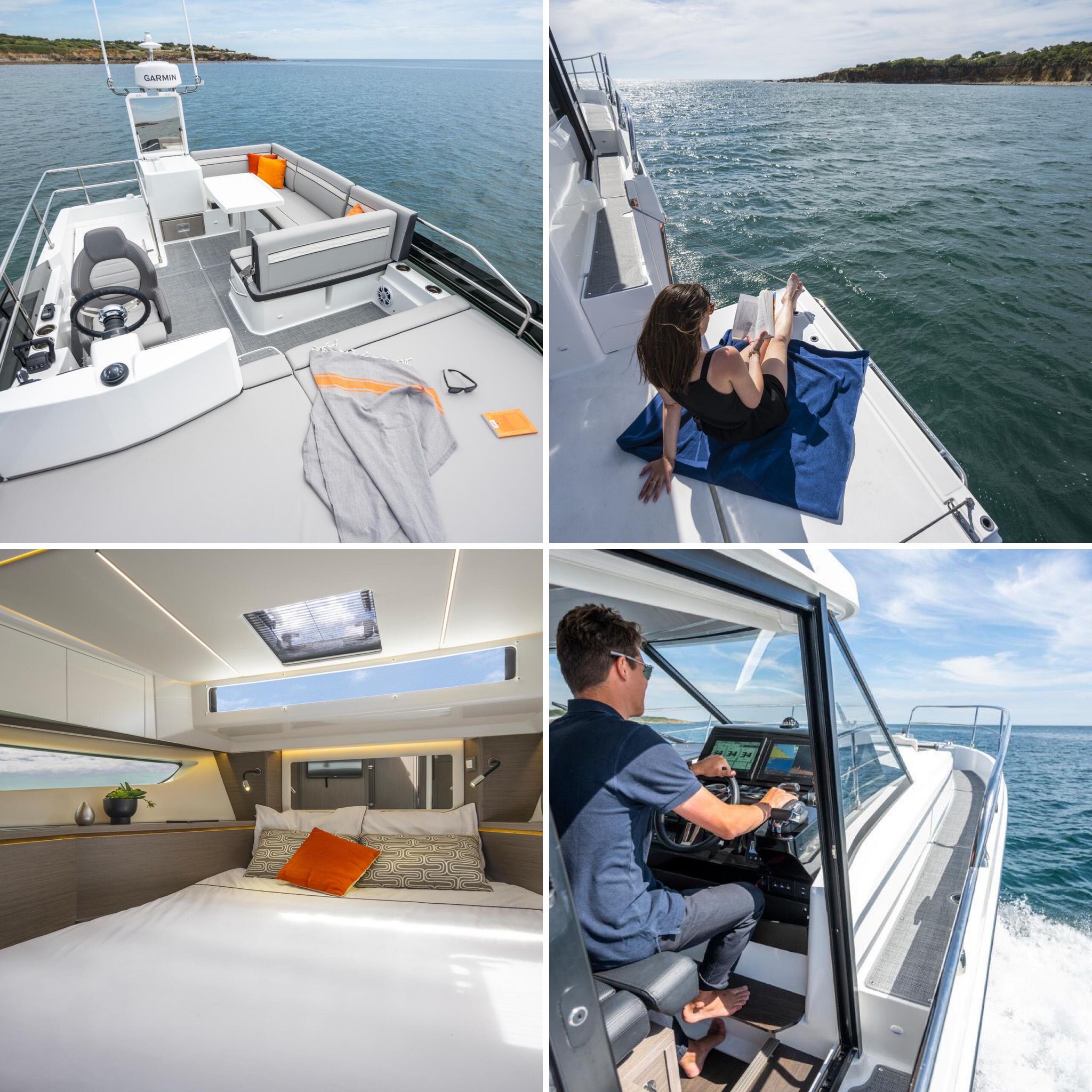 The interior of the new Merry Fisher 1295 Fly stands out for its large, bright windows with panoramic views on the water. In addition, the yacht comes equipped with the latest technologies of larger ships, to pilot with ease. The starboard side door will allow you to access and manoeuvre easily.
Here the video of this boat: https://youtu.be/ztgECg9z4dI
Second, the Les Herbiers-based yacht builder will turn heads at next year's boat shows with the Cap Camarat 10.5 CC.
It is a new outboard designed to fulfill multiple functions at the customer's choice: water sports, fishing, comfortable navigation…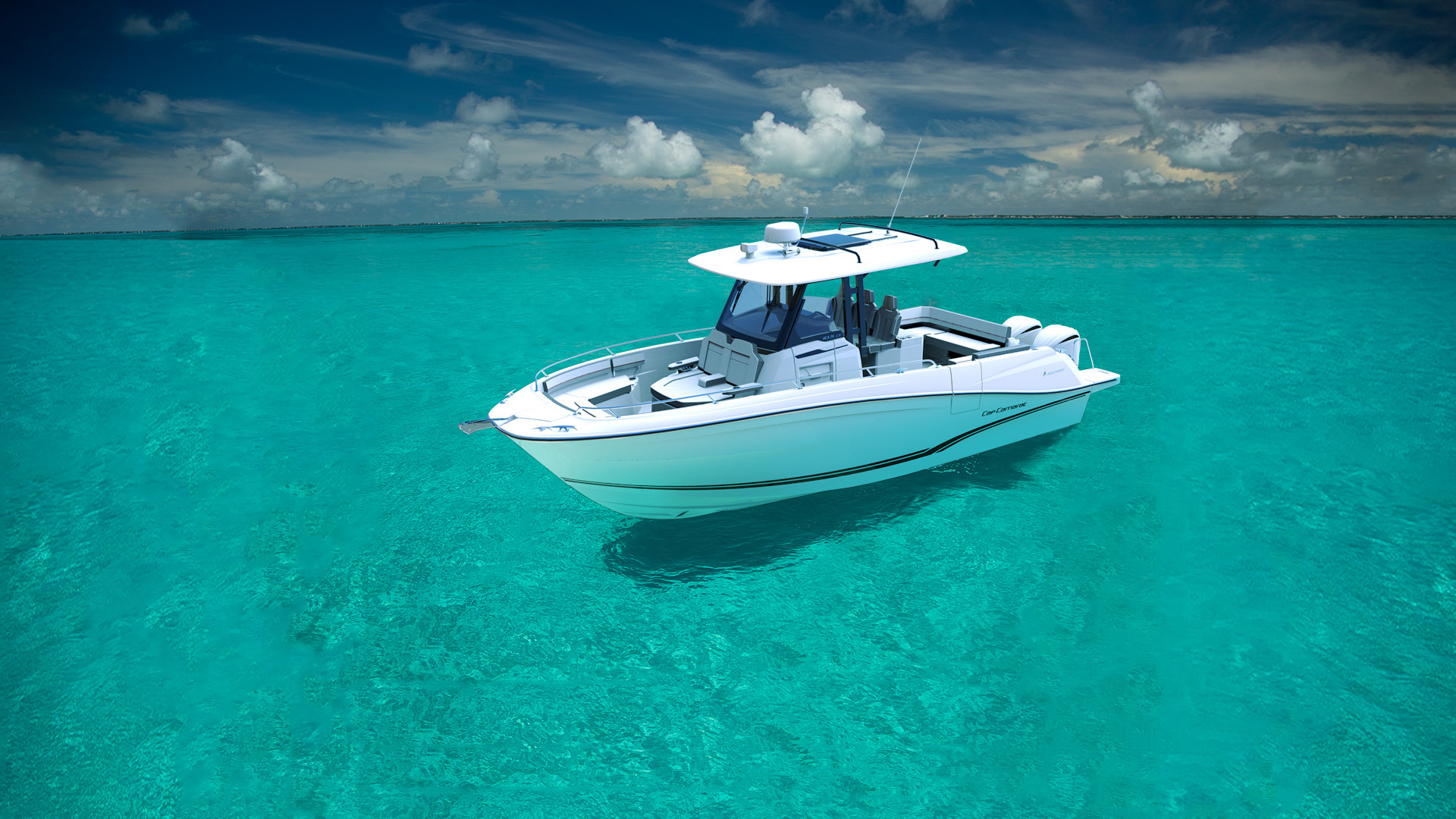 This motor boat comes with a V-shaped hull for a very comfortable navigation, with a powerful 2 x 300 CV or 2 x 425 CV joystick engine. Enjoy long and fast navigations in complete safety thanks to its ergonomic cabin. It has two spacious cabins and a huge door with an integrated swim ladder, which allows privileged access to the sea.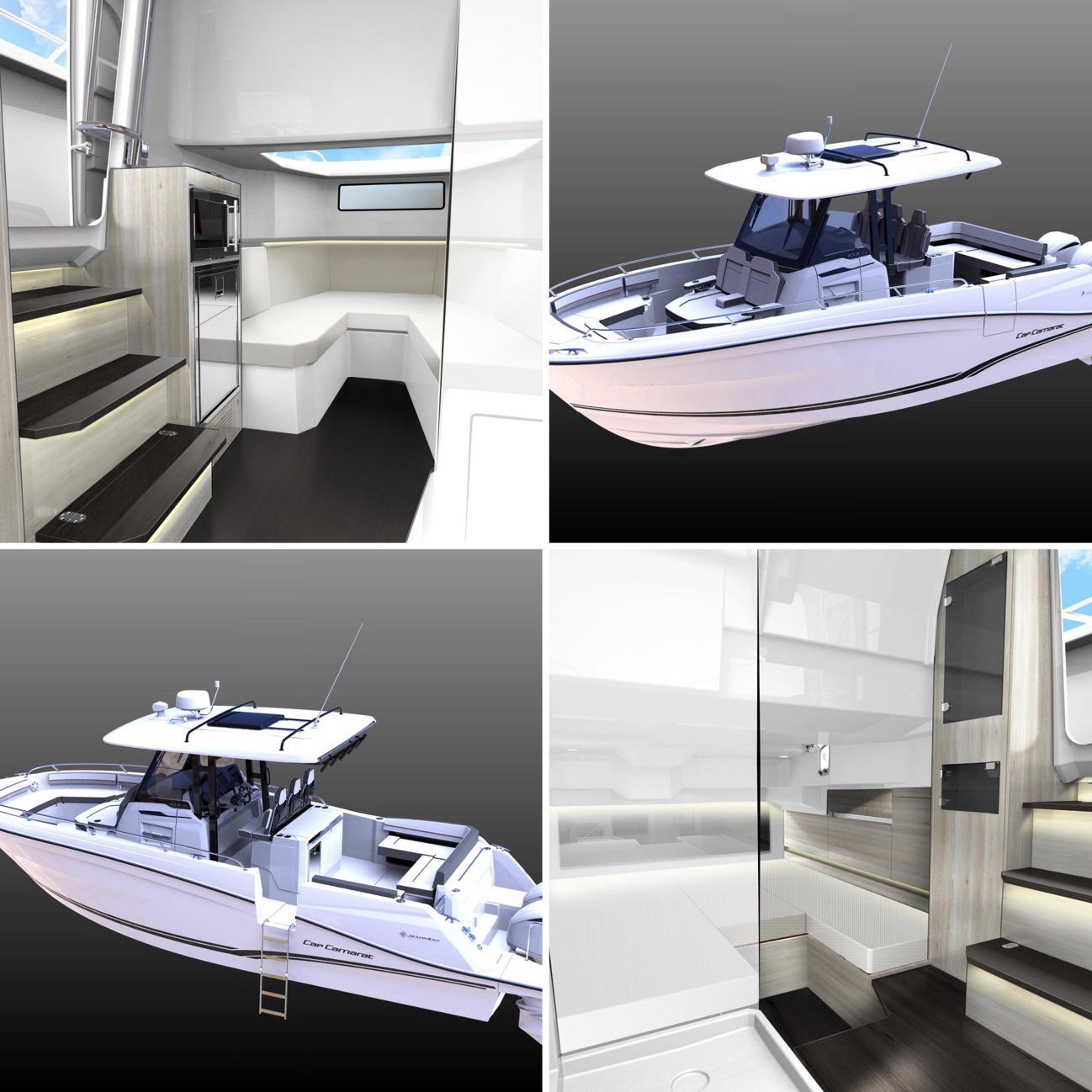 In addition, the aft bathtub conquers with its equipped kitchen: fridge, sink, gas stove or grill as an option. One more detail: for fishing lovers, the Cap Camarat 10.5 CC provides specific equipment, such as the rod holders on the roof or the transparent fish tank!
The French company's 2023 catalog of novelties is completed with a new 17-meter sailboat that comes to reinforce the recent launches of the Jeanneau Yachts 60 and 65. With an ingenious and original design concept, the Jeanneau Yachts 55 gives a new approach to the cruiser, incredibly designed with the outside space in mind, guaranteeing full privacy to the navigator.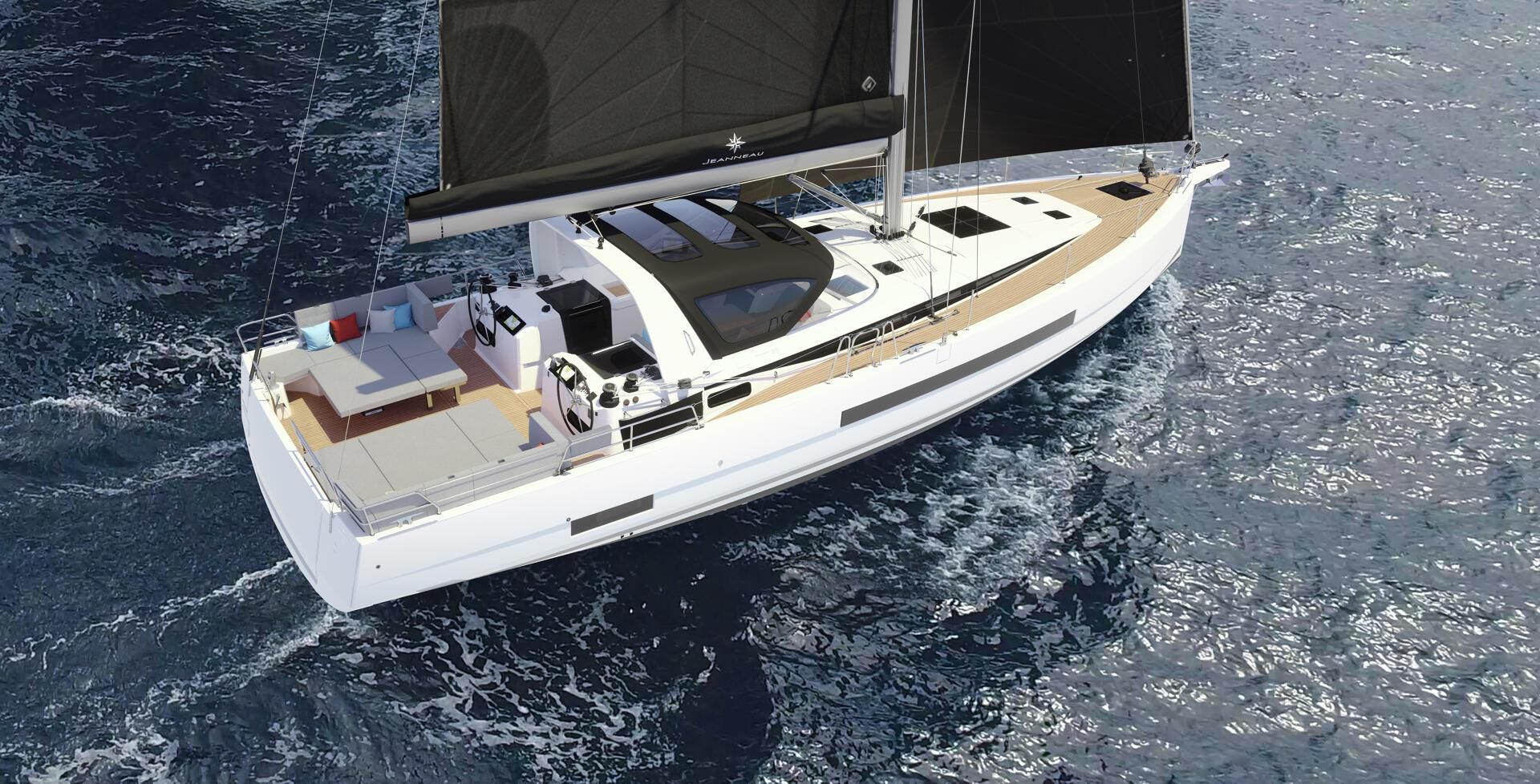 Designed as a true private apartment, the interior area offers a unique layout that occupies the forward two-thirds of the vessel. Bright, refined and comfortable, the Jeanneau Yachts 55 offers two cabins with private bathrooms that can accommodate sailors in perfectly separated spaces, accessible from the deck by two different stairs.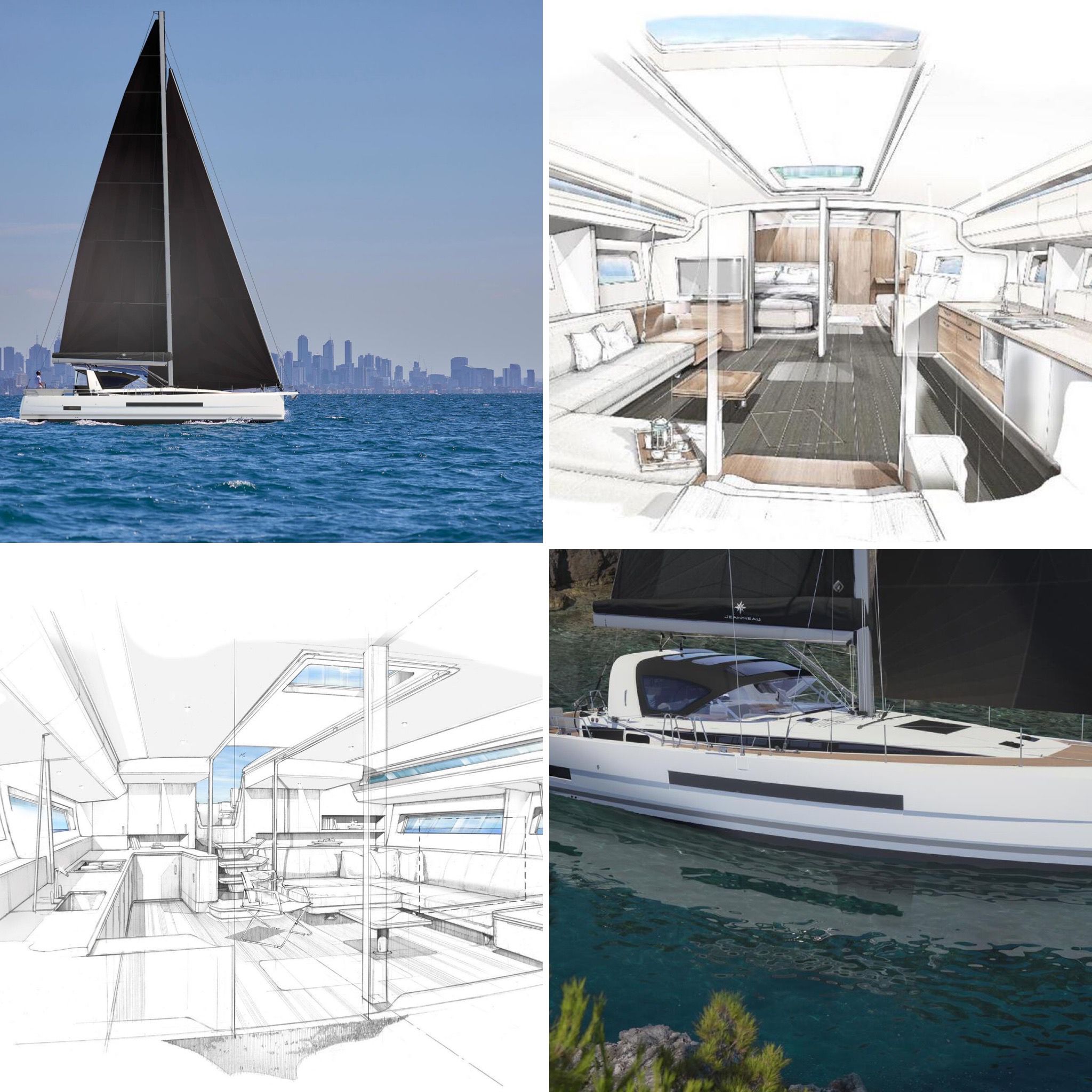 On the outside, the stern is dedicated to relaxation: two lounges on each side, U-shaped and L-shaped, both convertible into sunbathing areas, and a majestic water access through a huge platform that unfolds by means of a hydraulic cylinder. The bow accommodates the advanced dual-helm and also an outside table for charting, with GPS display and autopilot control. Everything is protected by the large wrap-around windshield and a hard hood that offers remarkable visibility.
Here's the YouTube video of the sailboat: https://youtu.be/Tvd-5XMZ_Ko
Are you interested in enjoying any of these three innovative boats from the prestigious French construction company Jeanneau ?
Get in touch with us at +34 690 83 05 50 or by email contacto@nauticachacon.com
More than 30 years of experience guarantee the quality of our services, top-notch customer attention.
The sea and sailing is our passion. Sharing it is our dream.https://www.nauticachacon.com/