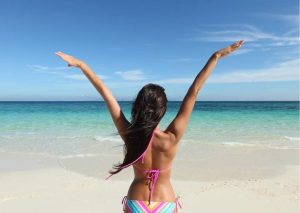 Fuerteventura is a paradise for "wind and wave" water sports. The oldest island of Canarian archipelago stands out for its great beaches with crystal water, wonderful natural parks with routes for hiking and its amazing underwater world.
The kindness and smiles of its habitants are one of the characteristics of the Majorera culture, known also for the production of the best goat cheeses in the world. 
A good climate on the island during all year and its warm waters make it a perfect and unique touristic destination. It is the eternal spring island, where the temperature is perfect throughout the year.
Fuerteventura is a privileged destination with its painteresque Fishermans villages, infinite deserts and spectacular landscapes.
We therefore present you the essence of Fuerteventura and the places that you cannot miss during your stay.
Fuerteventura: Corralejo- What to see? 
If you arrive in Fuerteventura with a boat, we recommend anchoring in the Port of Corralejo: a very dynamic town, known for its great beaches, sports and good atmosphere, both during the day and at night.
You can walk through its streets or by the sea enjoying its flavors and contemplating the views. Just 5 km from the town are the famous Corralejo Dunes, where you can enjoy this immense natural landscape.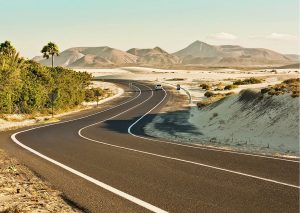 The old town has a great selection of restaurants, where at night you can enjoy live music, sitting comfortably in one of them.  Between the places that are worth visiting are:
Dunas de Corralejo Natural Park

 
Old Town of Corralejo
Popcorn Beach (Sunset Beach)
Volcano Route
• Off road on north shore
Beaches in Fuerteventura
Fuerteventura is well known for its beaches. Each one of them is unique. In the north of the island, we can highlight:
Popcorn Beach (Sunset Beach in Corralejo)
This wonderful beach, instead of sand, has fossils of white algae that look like popcorn. If you are going to visit this beach, we ask you to be satisfied with just looking and touching this wonder, and do not take it with you as a souvenir; as this brings unwanted consequences to the natural environment.
Grandes Playas of Corralejo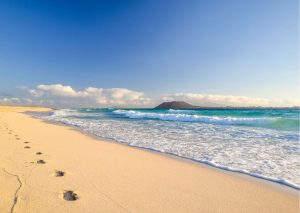 It has beaches that are almost 3.5 kilometers long, creating a group known as Grandes Playas. Among them, we can highlight:
• Flag Beach. Perfect place to practice kitesurfing.
• La Entubadera. Beach for surfing.
• Bajo Negro beach. Beach located behind the hotels. It is well sheltered from the wind and waves; perfect to enjoy a day with the family.
Cotillo
If we move to the east coast of the island, we have another very cozy town called Cotillo. There we can find:
• Lakes of Cotillo. Lagoons that form at high tide. Unlike other beaches, the se ones are generally very quiet.
Piedra Playa. An impressive beach to which we descend from a Cliff.
Sotavento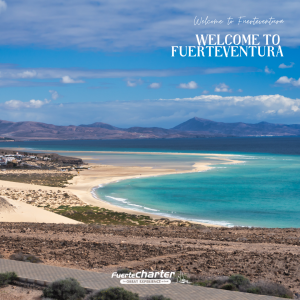 This amazing beach is known as the windsurf paradise and it  is one of the most famous beach worldwide to practice this sport. It is  here where the World Cup of windsurf and kitesurf are celebrated.
Cofete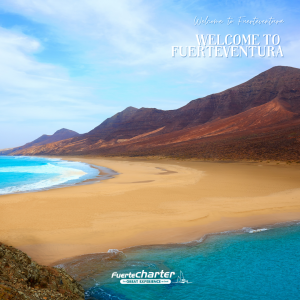 For many it is the most beautiful beach on the island. It is located in the extreme south, on the Jandía peninsula. Getting there requires a bit of determination, but the effort will be rewarded by the nature which is so wild that it leaves you speechless. The sandy area, framed by majestic mountains, stretches as far as the eye can see and has a totally unspoiled and uncontaminated appearance. A paradisiacal and impressive beach that you can't miss.
Gastronomy
Fuerteventura is a place of fishing tradition; it is the place where the richest fresh fish is obtained. The best known are viejas, breams, cabrillas, groupers, octopus or moray eel.
On the other hand, majorero goat meats are very popular and, of course, cheeses and yogurts made with goat's milk.
These cheeses are one of the most valued products of Canarian gastronomy. Since 1996 it has a designation of origin.
Walking trails
Fuerteventura is a paradise for hiking lovers. If you are staying in the north of the island, we recommend a circular route that passes next to Montaña Colorada and leads us to the crater of the Calderón Hondo Volcano. The hike is very easy and  it offers incredible views.
As you can see, Fuerteventura is a paradise, not only because of its beaches, but also because of its extensive gastronomy and wonderful routes. What are you  for waiting to visit us?