What is one of the biggest dreams of children?
Without a doubt, seeing dolphins!
Seeing them swimming freely in the unspoilt ocean is an experience that adults will never forget.


But how can you experience this unique and exciting adventure?
It's easy! You can just buy a ticket for an excursion with Fuertecharter!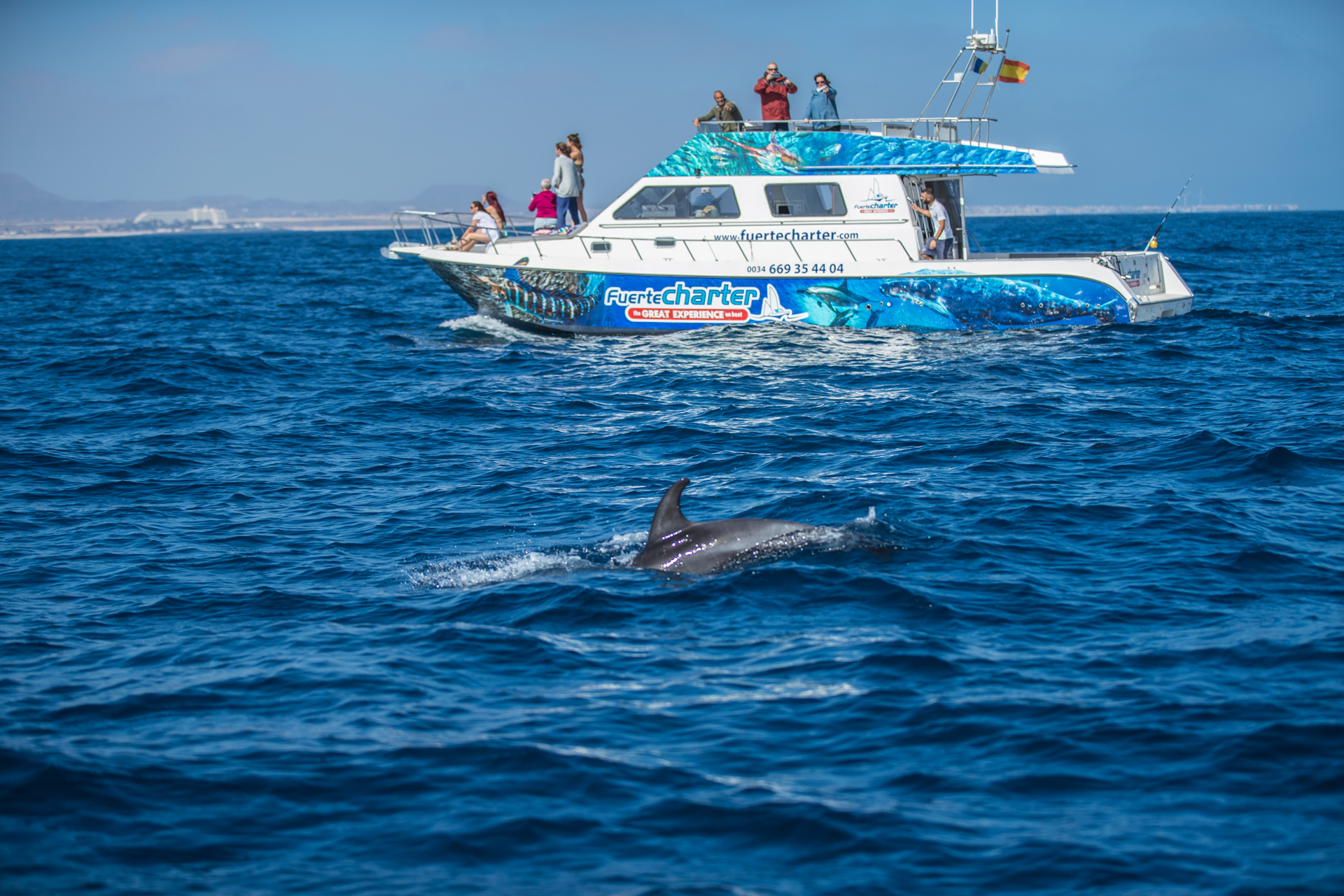 The tour starts by embarking from the port of Corralejo, and is designed for everyone to have fun, both adults and children.

The best sailing area for whale watching is the channel between Fuerteventura, Lanzarote and the island of Lobos.

 Most of the time we find them to the northwest of the island of Lobos, a couple of miles off the coast, with the Papagayo Beach of Lanzarote and the Great Beaches of Corralejo as a frame. Other times they can be found in Lanzarote, in the area in front of Playa Quemada, Puerto del Carmen or Puerto Calero; sometimes they can be found along the east coast of Fuerteventura, in front of the wonderful natural park of the Corralejo Dunes, at the foot of Montaña Rojas, known for its special red peak.
These unspoilt areas are home to many marine animals, such as dolphins, whales, pilot whales and sea turtles.
In fact, in the Canary Islands waters, you can spot 28 of the 87 types of cetaceans that exist in the world!
This certifies the high quality of the waters surrounding Fuerteventura.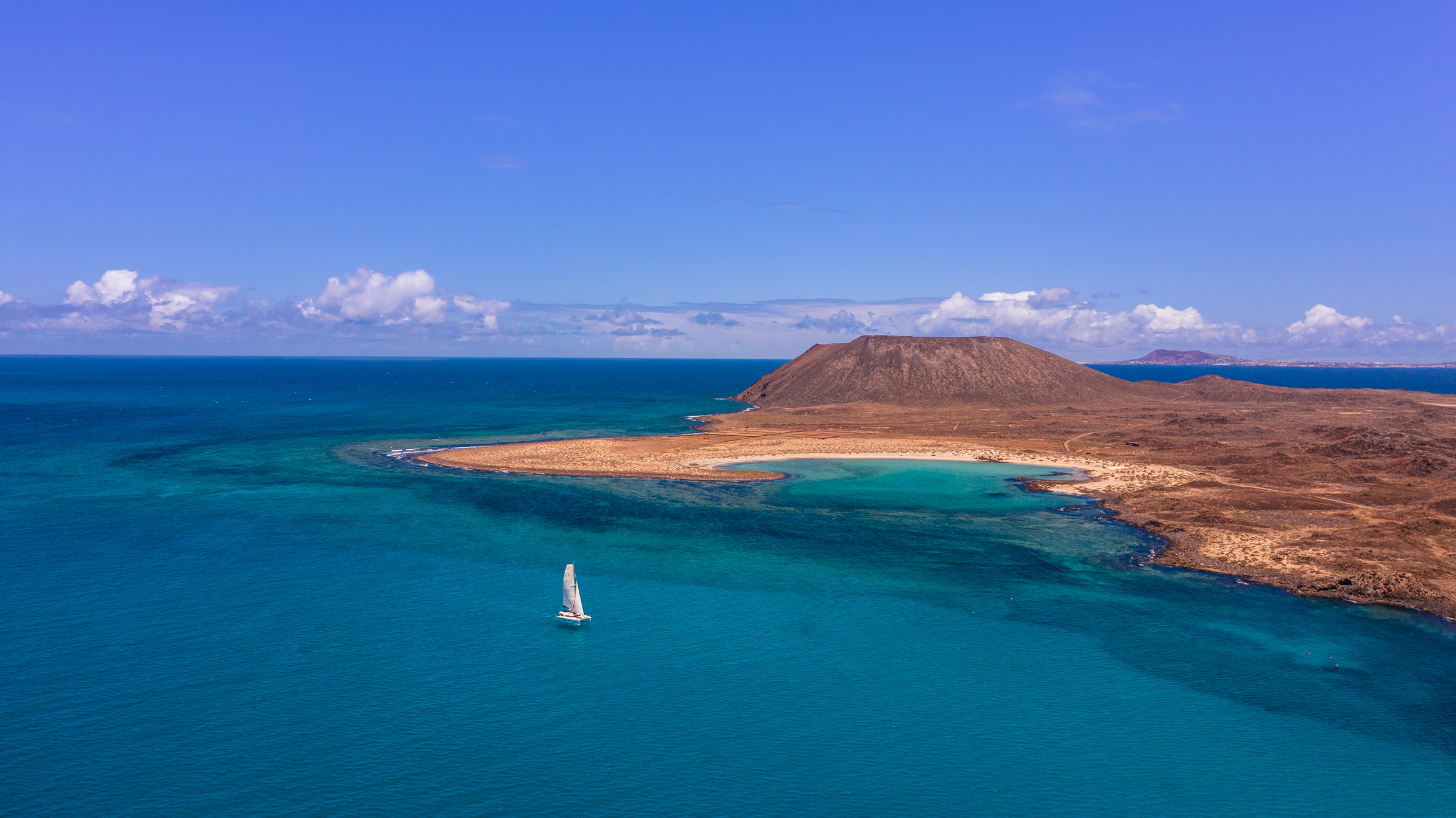 It will be very easy to find a group of dolphins playing around the catamaran you are sailing on.

Seeing them is an incredible experience, but spotting a whale is truly a breathtaking moment.
 These majestic aquatic mammals swim in the waters around Fuerteventura between spring and summer.
There are many others that live in the depths in search of squid to hunt, and these cetaceans can reach up to 20 metres in length, but as we have said, they prefer to stay close to the seabed where they can remain undisturbed.
So which cetaceans can you spot on an excursion with Fuertecharter?

– Bottlenose Dolphin: it is very common to see this dolphin in the Canary Islands, it measures between 2 and 4 metres, looks quite portly and likes to travel in groups, they have a lot of fun chasing our boat or swimming around!

– Pilot Whale: Although it is called a whale, it actually belongs to the dolphin family and is also known as the Calderón Tropical, another common mammal in the Canary Islands. It can measure up to 5 metres in length.
– Common dolphin: a very slender cetacean. It is characteristically coloured, with a dark grey dorsal area and a white ventral area; laterally it has light grey areas from head to tail. It measures up to 2.4 m in length.
– Striped dolphin: The striped dolphin is similar in size and shape to several other dolphins that inhabit the same waters, however, their colouring makes them easy to distinguish in the sea. The underside or belly is white or pink. There are one or two dark blue bands running from the eye to the caudal fin.
– Hammerhead shark: The most striking feature of all hammerhead shark species is the particular T-shaped head, with the eyes and nostrils located at the ends of the head, thanks to the side-to-side head movement as it swims, it can see everything around it and even behind it.
– Sunfish: The body is flattened laterally and when the dorsal and ventral fins are extended, the fish is as long as it is tall.
– Exocoetidae or Flying fish: Its most striking feature is the size of its unusually large pectoral fins, which allow it to fly and glide for distances of more than 50 metres.
– Sperm whale: The largest toothed animal in existence, males can grow up to 20.5 metres long and weigh more than 50 tonnes.
– Loggerhead turtle: known as Caretta Caretta, one of the smallest turtles in the ocean and can measure up to 120cm, it does not like to live too deep.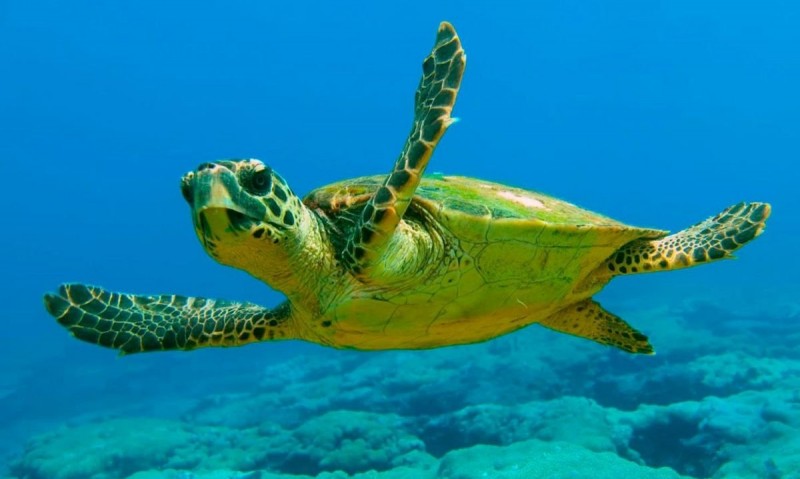 And if you don't look enough, you can also see other aquatic animals such as the spotted dolphin, the rough-toothed dolphin, the black and grey pilot whale, the humpback whale and the Bryde's whale. 
In addition, many birds can be sighted during our excursion. A very special one is the so-called Cory's Shearwater, a type of bird that spends days without touching land in search of food. It plays an important role in the search for dolphins as it flies just above the school of bait and therefore helps us to find them.


And the experience doesn't end here, because on this excursion we will also take you to relax in front of the island of Lobos, where you can sunbathe on our boat or do water activities such as snorkelling, sup or kayaking, and we will serve you a delicious paella, accompanied with drinks and fresh wine.
During the whole excursion we will take a multitude of free photos that you will be able to download on our website, to remember this magnificent experience forever!
What are you waiting for to book?
Get on board and live this dream adventure with us!