The island of Fuerteventura is a rough diamond, large and wild, with endless beaches to enjoy sunbathing and cristal clear warm waters, where you can play with the waves on the shore, with shovels in the sand or have fun making sand castles.
If you visit the island with your children, nephews, children of friends … it's good for you to know some of the activities you can do with them, so these become memorable and enjoyable holidays for everyone.
CATAMARAN EXCURSION TO THE ISLAND OF LOBOS
Visiting the island of Lobos, northeast of Fuerteventura, on a catamaran is an activity that kids love, because it is designed for the fun of the whole family. With FuerteCharter, young apprentices will take the helm as true masters, enjoy snorkelling and feeding the small fish from the clear waters of Lobos; they can practise Stand Up Paddle, Kayak, jump into the water in many different ways, and have photos of the whole experience. Fun is guaranteed!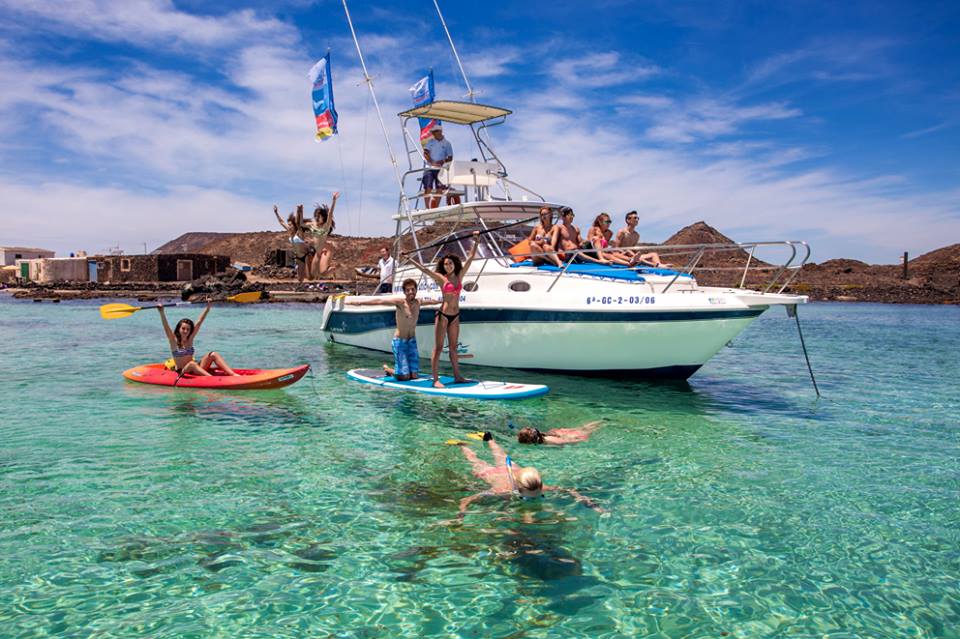 SURFING LESSONS
The coast of Fuerteventura invites to water sports, highlighting surf as star activity. It's true it looks like a simple sport, where simply having a table the children can play in the waves on the shore, but on the other hand is a risky sport, because of the currents on beaches, and it has a technique which is very difficult to learn by oneself; so from here we encourage you to contract some surfing lessons for children, because it will be much safer, they will learn more and this will also mean a few hours of relax for parents, leaving their children to instructors, if they want, or perhaps they take heart and sign up for surfing lessons, to share this fun activity with their children.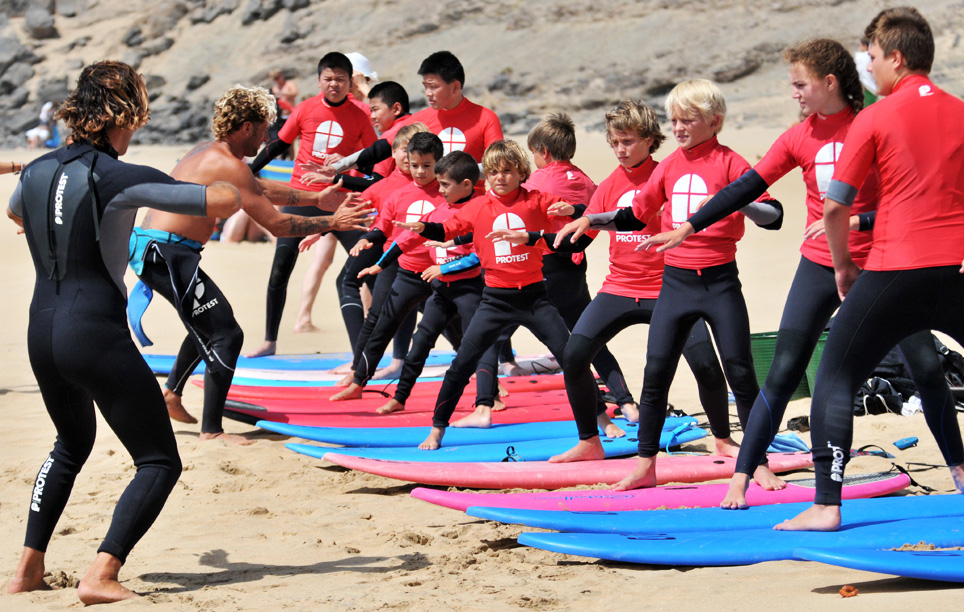 AQUA WATER PARK
In the town of Corralejo, you can find this water park with various swimming pools and water slides of different heights and levels of difficulty. There are shallow pools , where the youngest children don't stop splashing, pools where you can dive and swim, for those who want to be more relaxed, and swimming pools with different attractions, so that the liveliest ones can vent as much adrenaline as possible . There is also a giant jacuzzi and a pool with wavelets.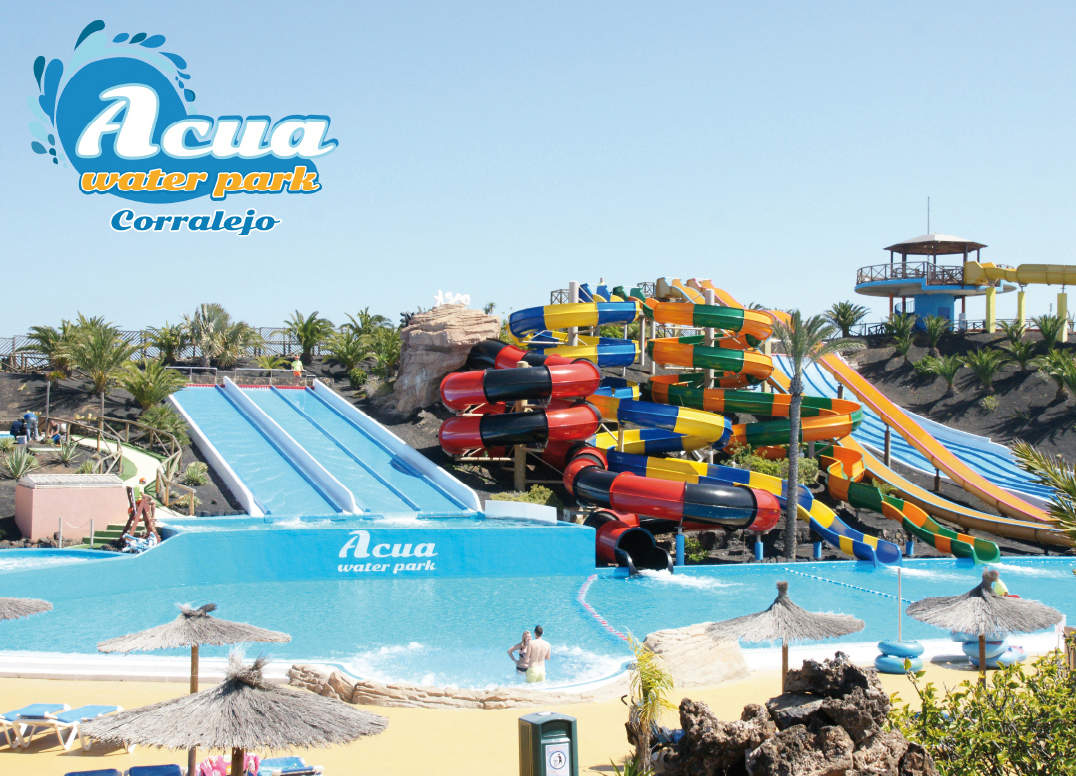 A RIDE BY QUAD
The volcanic and semi-desert landscape of Fuerteventura is ideal for an excursion by quad. There are many companies that will take you for a ride in these vehicles, among volcanoes.
For the youngest guests, there is a closed circuit in Corralejo, so they learn to drive buggies by themselves, safely.
OASIS PARK IN LA LAJITA
If your children enjoy zoos, in Oasis Park in La Lajita (south of the island of Fuerteventura), you will find the zoo with over 250 animal species (giraffes, hippos, crocodiles, chimpanzees, …), and shows of sea ​​lions, reptiles, hawks, eagles, parrots …
In Oasis Park we find the largest camel preserve in Europe, so you can enjoy riding them, and children can also learn how the food that feeds them is cultivated, and you'll also be taught some interesting facts about this species such as that camel milk has very positive properties for humans, because, among other things, it regulates the levels of sugar in our blood.
The youngest ones will be able to take a pony ride, and there are playground areas with trampolines.
Inside the park, you will also find a spectacular botanical garden, that will appeal to children and adults alike.
Also, on Sunday you will enjoy a craft market, with organic food: fruit, vegetables, cheese … and craft stalls.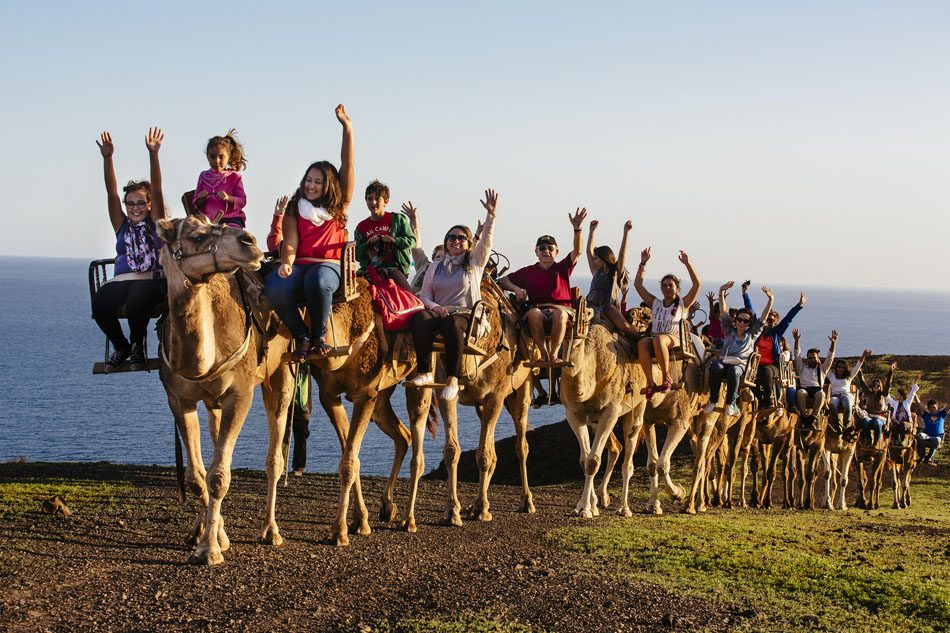 CLIMBING A VOLCANO
If children are older than 5-6, a really fun and interesting activity is to climb to the top of a volcano.
The volcano of Lajares, Calderon Hondo, has a path leading to the top, from which you can see a perfectly circular volcanic caldera, plus stunning views of the north of the island of Fuerteventura.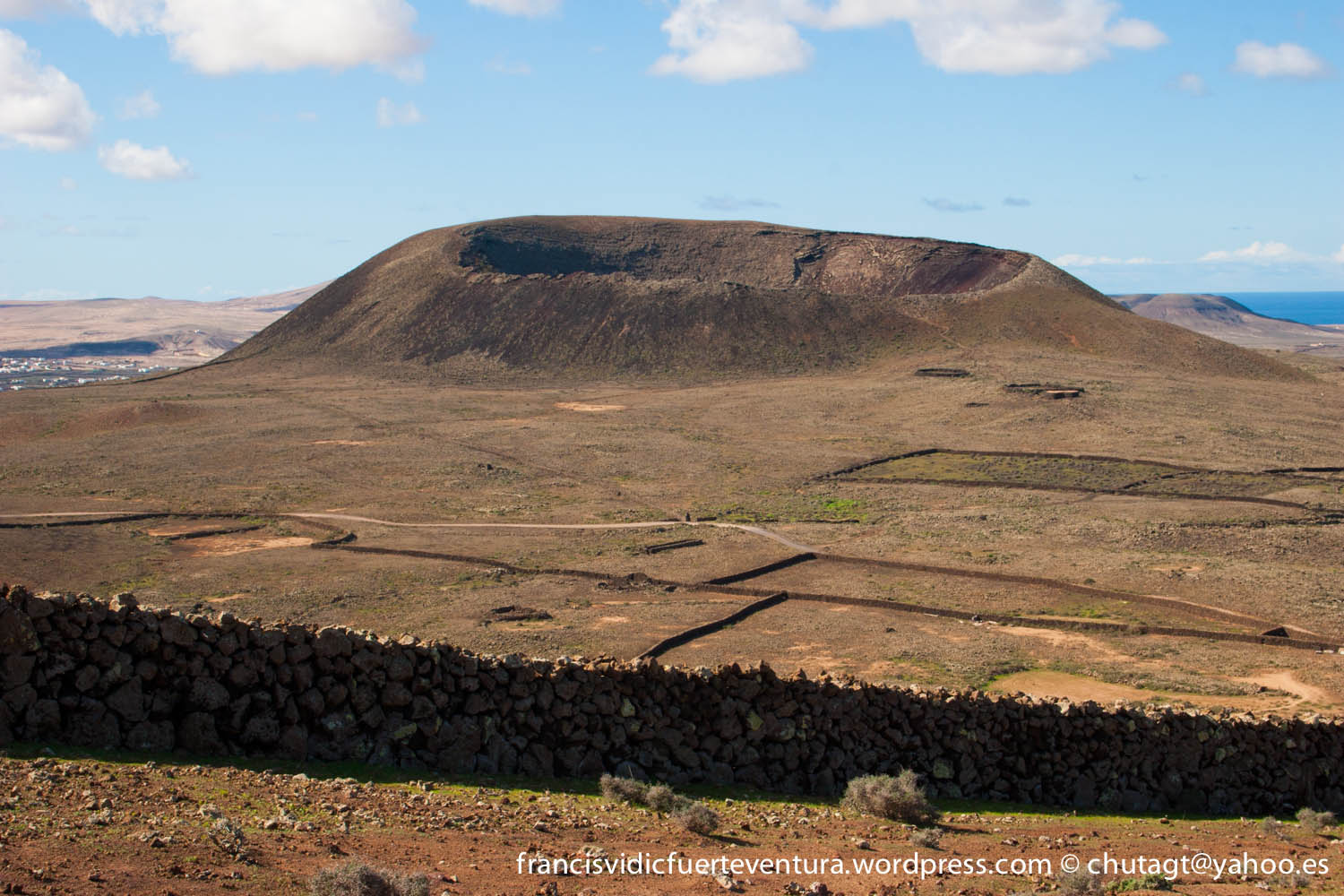 Happy holidays with your little ones!
Fuertecharter Team