The town of Corralejo is again protagonist on the island, this time the long holiday weekend in December from Thursday 4th  to Monday 8th , hosting the fourth  LGBT Festival (Lesbian, Gay, Bisexual and Transgender people): Rainbow Fuerteventura.
This festival, born in 2011, already enjoys a successful position within the international circuit of gay parties, and its aim is to  provide colour and spectacle, organizing different activities in bars, hotels, shops, restaurants, terraces, beach bars, and even in the streets of Corralejo, during these five days.
The common factors to all activities are the willingness to have fun, paying no heed to social barriers, breaking with tags and proposing a mix of lifestyles and music, no matter  your sexual orientation, just the desire to enjoy prevails.
Among the activities we'll find contests, shows, parades, marches and late-night rave parties, enlivened by the most cutting edge music of the moment.
This year, the town council in La Oliva has painted, with rainbow flags, some pedestrian crossings on the main street to welcome a festival fighting for equality and against homophobia, transphobia, and in general any form of discrimination existing in society. So, Corralejo joins the tolerant and inclusive tourist destinations, and is touted as a LGBT destination, ideal for a holiday.
Among the activities of the program, apart from different parties in discos, pools or on the beach,  Games for Equality, Diversity and Sustainability stand out, this year taking place for the first time, and among them we find a  paddle tournament, one of  beach volleyball and another one of Canarian wrestling, as well as the XI Cyclo-tourist event Corralejo Dunes. On Sunday,  an exceptional event will be taking place in Lobos Islet:  a race over 7 kms, though the path along this magnificent islet.
On Saturday 6th  The Trade Fair and White Night will take place, starting at 10am and ending at 11pm. There will be entertainment for children, street music, and Altihay community will take advantage of this opportunity to make their claims and social awareness campaign. That very day, the independent editorial "Two whiskers", winner of the "Festival La Culta" award, and having already released six LGBT publications, will present their works, among which two monographs of stories about homophobia in Russia ("El armario de acero ") and Africa (" Los deseos afines ") can be highlighted.
Here we leave the full programme, so you decide in which of these festival activities you would like to take part to support diversity and tolerance.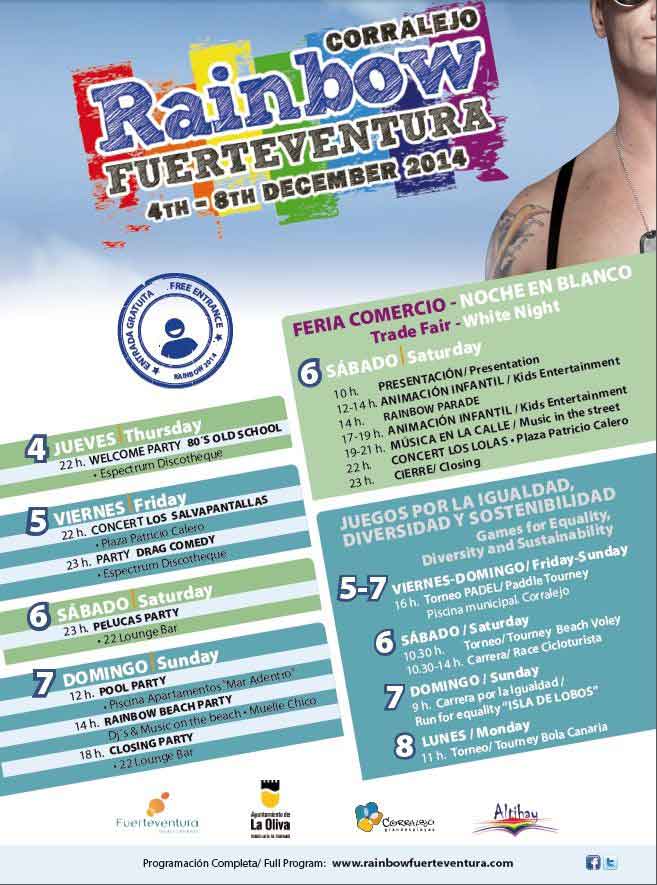 And for those of you who want to discover the charms of sailing with us, we offer one of our trips by catamaran to the islet of Lobos. In FuerteCharter we are also committed to tolerance.
FuerteCharter Team