La Graciosa is the eighth island of the Canary Islands. Its population counts 700 people. It has 29 square kilometers of beautiful untouched beaches, turquoise waters, and a striking volcanic landscape.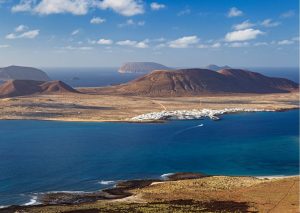 It is one of the few places in Europe without asphalted roads. This makes it a truly virgin island, and free from mass tourism, since the only way to get there is by the sea.
Where to moor in La Graciosa?
The only port available in La Graciosa is La Caleta del Sebo, located at the gateway to the island. Caleta de Sebo is the island capital and one of the only two towns that we can find on this little paradise. The other town is Pedro Barba.
Beaches
The beauty of its exotic and lonely beaches, captivates to a point of relaxation that is not easily achieved elsewhere. The most surprising beaches in La Graciosa that we recommend visiting are:
La Cocina. This is also known as Cala de Montaña Amarilla. From La Caleta de Sebo there are about 6 km of route.
La Francesa. A beach with spectacular, transparent and very calm waters. The high tide is perfect for snorkeling.
Playa del Salado. Along with La Francesa and La Cocina, it is a beach in the south coast where the water is very calm.
Las Conchas. It´s a beach located in the north of the island, with views of the islet of Montaña Clara. This coast can have a little stronger swell, for this reason, it is sometimes not available for a bath for several days.
La Laja. Located in the Caleta de Sebo town. It's a very quiet beach,

 

surrounded by typical canarian white houses. It's perfect for families with children.
Playa del Ámbar. This beach is located in the north of the island near the town Pedro Barba, it is exposed to the north wind. Therefore, its waters can be dangerous due to the waves and the strong currents.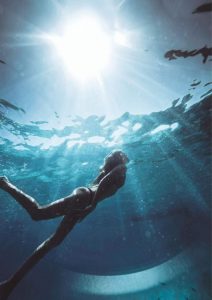 Where to eat?
All the restaurants are found in Caleta de Sebo. They have wonderful views of Risco de Famara and are located on the first line of the sea.
You will be able to taste the typical Spanish meals with its classic fresh local fish, but also you will find some fast food places.
What can you do in La Graciosa?
La Graciosa has many activities to offer.
Bicycle rides. The "all terrain" bike rides are the best option on the island and all the routes are very well sign-posted. There are several places where you can rent a bike in Caleta del Sebo.
Boat travel. If you have a boat you can sail around its coast and appreciate Montaña Clara, Alegranza, Roque del Infierno, Montaña Amarilla and Playa de la Cocina.
Diving. The Chinijo archipelago has the greatest marine diversity of all the Canary Islands. Among fauna and flora there are up to 774 recognized species. You can also find caves and tunnels that will allow you to discover the underwater rock formations that come from volcanic eruptions.
Trekking. As La Graciosa is a small island, you can explore it by foot. The trails lead us to untouched beaches and spectacular viewpoints. Remember to bring enough water and food with you, as there are no shops or beach bars along the island. You can only find them in the two main towns.
Live the best experience in La Graciosa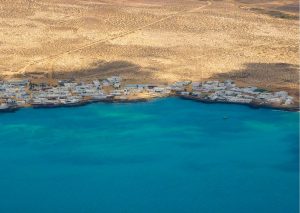 If you did not know about this spectacular paradise, it is the time to check it out. La Graciosa will offer you a unique, unforgettable moments. Look no further! It is the best vacation plan! Enjoy all that this treasure of the ocean can offer you. You will live the best experience.