In our quest  to let people know about the wonders of Fuerteventura we continue writing about those places you should definitely visit to fully enjoy the island. We are based in the port of Corralejo and our favorite place is Isla de Lobos, a place where we make our tours for visitors to enjoy, but there are plenty of corners in this paradise island, one of them is the fishing village of El Cotillo.
It is the most northern town on the west coast. It is an uncrowded fishing and tourist town, as the offer for visitors focuses on the rental of apartments and small aparthotels and just one new built hotel. Its beautiful beaches, for all tastes, are some of the most beautiful ones on the island, with fantastic  natural landscapes and the charm of  a small fishing village that  turn it into  a must visit for traveller. It also has a very good range of restaurants where you can enjoy delicious local fresh fish,  as marine fauna is abundant.
Points of interest:
EL TOSTÓN LIGHTHOUSE.   Lighthouse in El Cotillo . Traditional Fishing Museum.
This beautiful lighthouse, located in a wonderful setting,  both for  its landscape and the richness of the birds that frequent it, now houses the Museum of Traditional Fishing, a representative sample of what  the fisherman trade meant to this town of El Cotillo and all over the island throughout its history.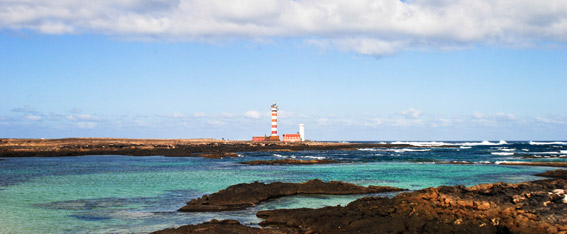 "MUELLE REFUGIO"
This  dock  is  a natural breakwater combined with a pier, used as a shelter dock for traditional fishing boats and small boats.
OLD DOCK
It is a small but lovely dock which has a small beach of black sand and pebbles, bounded by the pier and the cliff and surrounded by a variety of restaurants and bars where you can enjoy the local  fresh  fish and heavenly sunsets.
"LA CONCHA" BEACH
The beach of "La Concha" is one of the most beautiful corners of the area, located north of the village. It's a natural pool sheltered by natural stone dikes that protect the beach from waves and made of pure white and fine sand and crystal water inviting to take a bath. In your way to El Tostón Lighthouse you can enjoy many more bays of this kind known as the Lakes of El Cotillo, because nature has wanted  this area to be made of small pools of sea protected by small stone dikes, ideal free of wave beaches to swim and enjoy with children without any danger.
"PIEDRA PLAYA" BEACH
South of town, under  a cliff with an amazing volcanic landscape behind we find this almost 2 km long sandy beach, the longest beach in the area, where year-round star sports in the island are practised: windsurfing, surfing ….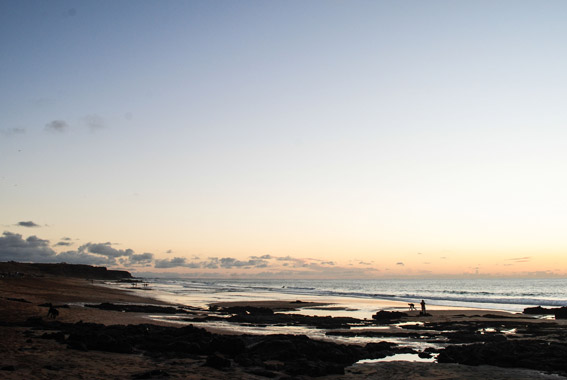 "El  TOSTÓN" TOWER
"El Toston" Tower is a seventeenth century fortress built of stone which is accessed via a staircase connected to the door trhough a drawbridge. At its highest point there were three cannons to defend the territory against attacks by Berber , French and British pirates. Nowadays it's a tourist information office.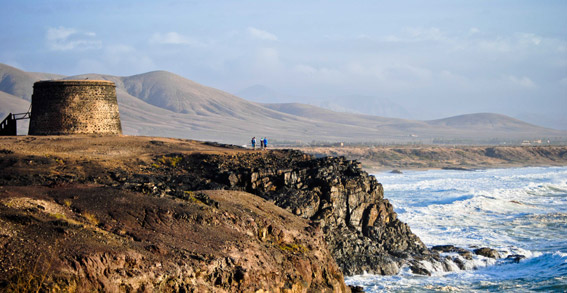 LIME KILNS
Throughout the entire geography of the island lime kilns are numerous, and  in between  the Shelter Dock in El Cotillo and El Tostón Lighthouse you can find up to four of them.
El Cotillo is definitely a place you should not miss; you can stroll along its streets or trails to enjoy the coast and swim in clean water, eat in its restaurants and enjoy an authentic  and quiet fishing village.
FuerteCharter Team