If you are going on a Catamaran trip for the first time and you don't know what to expect, you should read the catamaran travel recommendations that we bring today. Get ready for your next vacation and enjoy one of the best ways to visit the Canary Islands with Fuertecharter.
What we want with these catamaran travel recommendations is to prepare you in advance and avoid any unforeseen event. As in any trip, there are certain factors to take into account, especially if it is your first time on this type of adventure.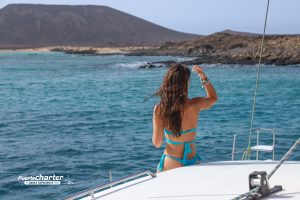 Inform yourself
Catamarans are very comfortable boats for this type of trip. In fact, the supply and demand in the rental of these boats has increased considerably, due to their ease of use, comfort and privacy. Thus we avoid common spaces and we are in safer environments. However, it is important to inform yourself very well about the basic security systems and other relevant information.
2. Be prepared for everything
What is the greatest fear of people when traveling by boat? That's right, dizziness. Even if you think you are immune to these movements, don't forget to take "biodramina" so that the dizziness doesn't spoil your trip.
3. Protect yourself from the sun
In this type of adventure you will have to spend a good amount of time under the rays of the sun. Don't forget to bring a good sunscreen. Even if it is very hot, don't forget to wear clothes with long sleeves (made of light material such as cotton or linen) to avoid burns on your skin.
4. Forget about hats
When traveling on a catamaran forget about wearing hats, because they will end up flying very far. You better wear a cap, or if you really want to wear a hat, make sure it has a string to tie around your neck.
5. Better if it's barefoot
If you walk barefoot you won't be slipping. You will include on your luggage your favorite shoes in case you go down in a port and go to dinner in some wonderful town. But when you are on the catamaran, forget about them.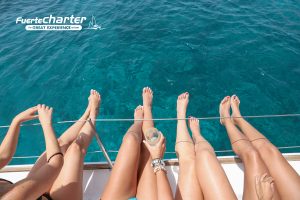 6. Take only the basics
In the cabins you won't have much space to hang your clothes. Therefore, one of the most important catamaran travel recommendations is to pack only what you really need. Apart from the bikinis and swimsuits, don't forget to include some windbreakers for the colder days. It´s better to bring a travel bag than a suitcase, because it will be easier to fit it in the cabin.
7. Do the groceries for the entire trip or contract a cook.
Buy enough food and drinks for the entire trip. For this we recommend that you think of your menu in advance. Purchases will be made for the entire journey and it is very possible that there will be no opportunity to buy anything during the cruise. This also applies to your favorite cocktail, or something special that you would like to drink. Also there exists an extra option to contract a cook, who would be at your disposition during all your escapade.
8. Be moderate about alcohol
Enjoying a good wine or exquisite champagne while sailing is definitely another level, but be careful not to overdo it. Crazy drinking can give you a hard time, especially in this type of environment.
9. Download your favorite songs
While you are cruising, it is normal for you to go through places where you don't have an Internet connection. Therefore, make sure to download many of your favorite songs to your mobile device.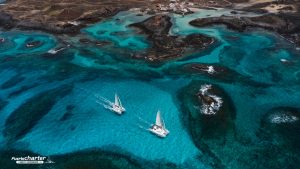 10. Ask all you want!
Our crew is there for you. Any details or questions that have not been clear, do not hesitate to ask.
Happy trip!