The sea area of the Biosphere Reserve in Fuerteventura has a great biological wealth, regarding species and marine ecosystems: intertidal puddles, submarine cliffs, brown seaweed beds, chalk pits, sand areas or sea grass meadows— those sandy seabed oasis of life—, all of them take part of the natural heritage of our dear Majorera island. In Fuertecharter we offer you trips from Corralejo, where we will go across some of these marine ecosystems.
Intertidal puddles
Some meters away from us, in the rocky tidal plains of Fuerteventura, we find these little samples of marine biodiversity. The tide is continuously making them emerge and submerge; this is why many of the species living there are especially adapted to the changes produced in their surrounding area.
In the emergent part of these rocky tidal plains we find the other side of a fascinating ecosystem where curlews and other coastal birds like turnstones, "chorlitejos" (charadrius) or "correlimos" (calidris) fly across the coast in order to forage. Limpets, "burgados" (osilinus spp), crabs and other invertebrates are the visible part of this ecosystem, together with the seaweeds that are exposed in the low tide and that cover the rocks in the intertidal puddles.
Brown seaweed beds
Along Fuerteventura coastline and mainly on the rocky bottoms we can find brown seaweed beds playing a crucial role as a main source of food production for the sea fauna.
"Blanquizales"
"Los blanquizales" are the whitish rocky bottoms,  as a result of the presence of the long-spined urchin "Diadema africanum" (before "Diadema antillarum"). These herbivores feed on the seaweed on the rocks, leaving them devoid of vegetation and thus fostering the emergence of these particular ecosystems. In our trips from Corralejo to Lobos we go across what is known as "El bajón del Río", an important area of "blanquizales" with geological formations in the shape of mushrooms, fully devoid of seaweed, which rise on a sandy bottom over 14 metres.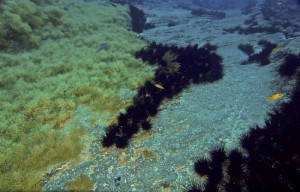 Sand Areas
Although apparently our sandy bottoms in the coastline may seem desert, a more careful look makes us find out that many organisms live either under or over the sand. Spiders, cone fish, starfish, cuttlefish, lizard fish, crabs… Then, in areas subjected to currents and where the sediment is more stable we find sand eels. The variety of species we can find in this ecosystem is really amazing. This is another marine ecosystem we find in our trips from Corralejo.
Sea grass meadows
These ocean meadows make up one of the most important marine ecosystems due to their great capacity to produce food, as well as to be used as breeding area for  many species of invertebrate fishes. These oasis of life on the sandy bottoms are environmental quality indicators in the coastline ecosystem and have a high ecological value we must preserve. Moreover they have other important roles, like the improvement of the water quality or the protection from coastal erosion. In our trips from Corralejo to Lobos we go across what is known as "los Sebadales de Corralejo", declared a Special Conservation Area (ZEC) because of its ecological significance and for being a habitat of interest for the bottlenose dolphin "Tursiops truncatus" and the loggerhead turtle "Caretta caretta".
Cliffs
Submarine cliffs are a meeting point among some species in the open sea and other species living near the coastline. The bicuda, amberjack and trumpet fish have their hunting reserves here. The moray eels, glass fish and other species living in dark environments find shelter in the crevices and caves at the rocks.
FuerteCharter Team