In our articles we almost always talk about our neighbour Lobos islet, as a main destination of our boat trips from "Corralejo". However today will tell you a little bit about the heavenly "Papagayo" beaches, in the island of "Lanzarote", a destination we often visit too in our private trip CP8.
Papagayo beaches consist of five small bays, which spread along 2 kms, located in Lanzarote and belonging to the village of "Playa Blanca", in the municipality of "Yaiza".
These small bays are the most precious diamond of our neighbour island, because of their spectacular golden sand and their quiet turquoise waters which turn this nook into one of the most seductive heavens in the Canary Islands, where having a bath is almost a must.
The five coves are located in what is called the natural monument of "Los Ajaches" —officially declared as such in June 1987, and it was also declared as an area of protection for birds (ZEPA) in 1979, and area of high ecological sensitivity in 1990— a volcano massif of a great beauty, landscape and ecological relevance where paleontological remains with fossils from the Lower Pliocene have been found.
Each of them has a different name, and all of them are very recommendable to visit: Playa Mujeres, Playa del Pozo, Playa de Papagayo, Caleta de Congrio and Puerto Velas, Playa de Papagayo being the one where we usually drop anchor in our boat trips from Fuerteventura.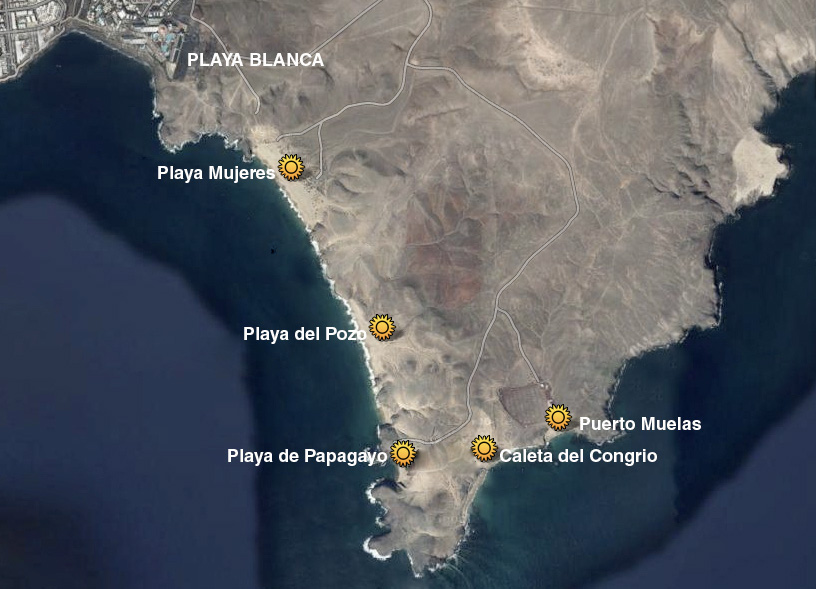 In each of these five small bays there are low-lying boulders that in turn form other smaller sheltered bays which offer more cosiness and privacy to their visitors.
Its proximity to the tourist town of Playa Blanca, just five minutes away by car, turn these beaches into ideal places to relax while not being too far away from the tourist hot spots, but far enough to get away from the hustle and bustle, mainly in winter time, season in which it's sometimes difficult to come across any more visitors in these beaches, thought of as heavens of unpaired beauty for almost exclusive enjoyment.
In summer they are more frequented, but their breadth makes it possible not to see them as crowded as the beaches in other tourist destinations.
In these beaches you find top quality conditions. As they are sheltered from the wind due to their orientation these beaches enjoy nice temperature, they have crystal-clear waters and almost no waves, typical from a Caribbean landscape. The views of the islet of Lobos and our dear Fuerteventura island make it possible to be lying in the sun while enjoying a work of art worthy of any of the best museums in the world.
These good conditions turn these beaches into an ideal place for children to run about safely without danger, to practise sports like beach tennis or fishing, to read, thanks to its peaceful silence, and go for long walks on the golden sand.
We highly recommend you to visit this piece of paradise if you haven't done it yet.
Fuertecharter's Team.