Not everything will be sailing to Isla de Lobos from Corralejo, and visit this piece of paradise that Fuerteventura is. On the contrary we love you to know every corner of this wonderful island. A small corner is the quaint village of La Ampuyenta, which has a historical and cultural heritage, several landmarks, worth knowing and visiting to look deep into the history of Fuerteventura.
The Ampuyenta offers, in a small walking tour, to discover the past and get to know an important part of the history of Fuerteventura.  We are talking about the historical heritage resort of La Ampuyenta, an environment fully restored and ready to be visited, made up of several buildings:
-The House Museum Doctor Mena
In this house, Tomás Mena and Mesa was born to a humble family in 1802. His parents made great efforts to get him studying and at the age of 19 he travelled to La Havana for a doctorate at the University of Medicine, specialty in surgery, thanks to his brother's small fortune, living in La Havana, who had an influential ecclesiastical position in that city. Later on, Tomas Mena y Mesa moved to Paris and he got a PhD in Tropical Medicine by The Sorbonne; back to La Havana he enjoys great fame as a physician and from there he travels to the US, broadening his knowledge. Such was his fame that he was made an honorary member of the Faculty of the University of Cadiz in 1846.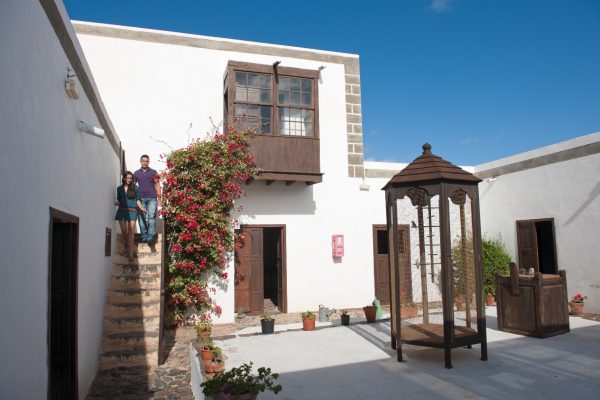 After a trip to Cadiz, he returns to his native Fuerteventura where he would spend the rest of his life, managing his vast fortune and devoted to research. But this great man never stopped providing services to others, ministering to his neighbours in his office for free.
In his legacy he left 25,000 pesetas to the people of Fuerteventura for the construction of a hospital where the needy could be taken care of.  But although such a building was built 60 years after he died, "El Hospitalito Doctor Mena" never worked as such and it is currently owned by the Church and contains the exhibition of saint platforms of Fuerteventura's chapels.
–The Charity Hospital of San Conrado and  San Gaspar

This is the hospital that Dr Mena y Mesa ordered to be built in his Will, and to honour his brother, the clergyman, he named it like this. It is a picturesque building built in three pavilions linked by corridors. The doctor wanted it to be devoted to charity and to be built in his home-town, but as we mentioned above it never got to serve its purpose. At present it is known as "El Hospitalito de La Ampuyenta" and it houses the exhibition of the saints' platforms of  Fuerteventura's chapels,  a dozen of such procession items, along with an old photo exhibition of the Festival of San Pedro de Alcantara. Outside, it has a tank which can also be visited.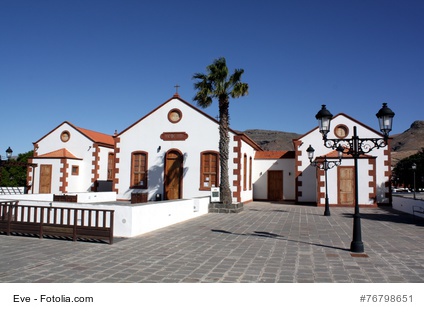 -The House of Fray Andrecito

In the early nineteenth century, Andrew Grace Acosta was born to a humble peasant family in this house; he worked as a goatherd but in his youth he was influenced by the Franciscans and history records that when he completed his day-to-day tasks he surrounded himself with children and taught them religion. After the death of his mother, he decides to embark on an expedition of emigrants to America caused by hunger and joblessness due to drought. First he moved to Uruguay and later on to Chile where he was related to the Franciscan order, achieving  —for his work,  strength and charity— great popularity in the humble occupation as beggar monk. He died in Santiago de Chile in January 1853.
Currently his humble and simple home is of Cultural Interest in the category of Historical Site and Fray Andresito is in the process of beatification.
-The Hermitage of San Pedro de Alcantara

Despite its small size, this chapel is the most important religious building of Fuerteventura, as it contains one of the most valuable and unique artistic ensembles in The Islands. Its architecture is very simple, contrasting with the wealth it contains, the most important religious painting collection of Fuerteventura. This chapel was founded in August 1681 with the sponsorship of the Franciscan saint San Pedro de Alcantara, canonised in 1669.
Inside, you can appreciate paintings, most of them dedicated to San Pedro de Alcantara, along with other architectural assets. The mural painting of the chapel of Ampuyenta is considered one of the most important in the Canary Islands, dating from the late eighteenth century; it's an unmatched work in the archipelago, due to the quality of the illusionist technique in which painting, architecture and sculpture are mixed.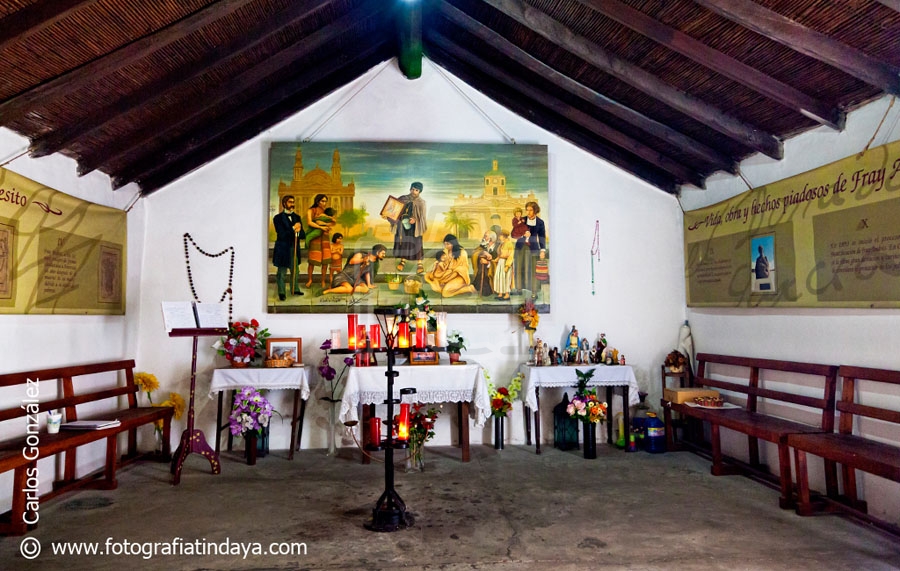 It's also currently an asset of cultural interest under the category of Monument and a place worth visiting to appreciate the uniqueness of the works it contains.
For these buildings, the history of the famous people we have commented on and thanks to the work of recovery and restoration of the Island Council and the Canary Islands Government in recent years, The Ampuyenta is a must-stop for those who want to learn more about a past which is really present in this village, a great walking tour of the historical heritage resort of La Ampuyenta,  a highly recommended visit.
As we said before, not everything will be day trips to Lobos and beach days;  Fuerteventura has, besides all that,  an interesting history.
How to get there:
La Ampuyenta is located in the municipality of Puerto del Rosario,  inland, about 20 kilometres from the capital of Fuerteventura, on the FV-20 road. Old address.