If you are one of our island's visitors you have thousands of ways to find out this wonderful paradise, but if you are a nature lover and its exclusive eccentricities, you can't miss our trips from Corralejo to the islet of Lobos to watch some endemic species you won't be able to find anywhere else in the world.
The Natural Park in the islet of Lobos is a paradise of a great biodiversity, where we can find endless endemic species from the Canary Islands. But if there is one that defines them better than any other else this is the houseleek in Lobos, or "Siempreviva de Laguna", whose scientific name is Limonium ovalifolium ssp Canariensis, which you can only find in this islet. Limonium ovalifolium ssp Canariensis is a little herbaceous plant with a lax open leaf rosette made of egg-shaped very dense ribbed hairless leaves featuring dense spikes, more than 10 per centimetre, with 3 to 5 white flowers, small conical calyx and a jazzy blue leaf blade.
When it grows it forms big grass-like prairies. It is hermaphroditic and it seems to be apomictic, that is, asexual, it reproduces from unfertilised seeds spread by the calyx itself, causing a parachute effect. It blooms in April and September, and it reproduces in May and October. It's a halophila species (living in environments with a high presence of salts), growing on a clay layer facing East. It's spread along the whole salt marsh (sand bank and lagoon areas) in the east coast of the islet, and it's abundant in the wettest areas. Every four weeks approximately it stays flooded for some hours, sometimes even for days.
There are records that this species also existed in Lanzarote and Fuerteventura, but at present, as we were saying, it only exists in the islet of Lobos, after having become extinct in these two islands. They take up approximately 18.000 m2, and they are estimated at around 103.512 specimens.
This endemic species is at risk of extinction. As its habitat is so reduced, any natural disaster or man intervention could bring it to an end immediately. For this reason, in the Natural Park of Lobos —known as ZEPA (special bird protection area), IBA (important area for birds) and LIC (common interest area)— there is surveillance and also restricted areas, as the simple fact of walking outside the paths could bring this species to an end. So, if you are one of our visitors, please, take special care with the instructions in the Natural Park.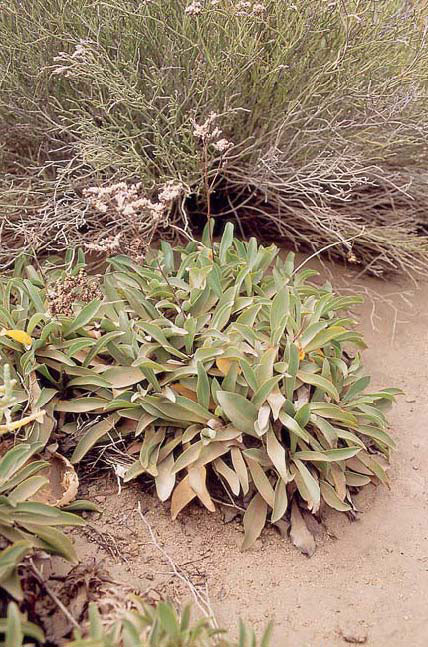 So as to avoid its becoming extinct, in "El Jardín Botánico Canario Viera y Clavijo" the experts cultivate this taxon in a controlled way, they keep the seeds and study their reproductive biology and genetic diversity so as to stop their extinction.
FuerteCharter's Team