Photo: © Citygonow.com
We are in the twenty-seventh annual International Kite Festival Fuerteventura, held, one more year, in the Natural Park of the Dunes of Corralejo and the Playa de La Concha in El Cotillo.
Coloured fabrics were launched into the sky  at the beginning of November, on the beach of La Concha, to stay in the wind until Sunday November 9th , painting the immense blue sky and the incomparable majorero landscape with hundreds of different shades.
What initially began as a gathering of  flying kite amateurs, 27 years ago, has become quite an event of national and international importance, attracting "kiters" from all around the globe.
Its organizers, Jacinto Rodriguez and Claudio Azzali,  are supported by the Department of Tourism of the City of La Oliva, in the arrangement of this event.
The kites that could be seen those days in the two beaches of Fuerteventura  stood out because of  their colours, some for their large dimensions, many for the originality of their creators. Crabs walking across the ground, ladybirds which suddenly jump and move several meters away, the legendary witches, large circles of colours, horses, hippos, cows, clowns and thousands of  ingenious ideas like a diver being chased by a small fish – whose movement was very well attained  really seeming to be immersed in water –  were some examples of kites  that you could find flying over the majorero sky.
The holding of this festival is an important promotion for the beaches of Fuerteventura, since it is an event followed by the media, broadcast at national and international level.
The first day of the event,  static and acrobatic  kite flying exhibitions took place on the beach of La Concha, El Cotillo, but the real inauguration took place on the following day, on the beach of El Burro, within the Natural Park Dunas de Corralejo.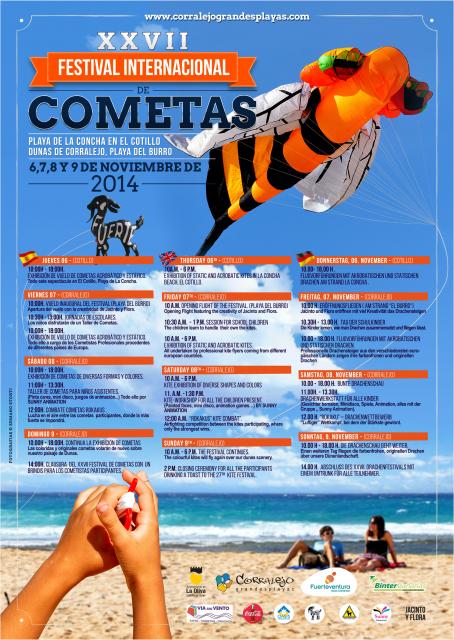 So you know, if you want to enjoy a weekend in the wind, with stunning scenery, we recommend attending this event, which also, on the other hand, you can witness from our boat, if you decide to join us on one of our tours around the coast of Corralejo.
Fuertecharter Team.