Cover photo: © M.Brekkevold
The most elusive cephalopod Mollusc in the waters of the Mediterranean and Eastern Atlantic, Octopus vulgaris, is one of the jewels that inhabits the rocky and sandy bottoms in Fuerteventura, up to a depth of 329 feet.
The word octopus comes from Latin polypus and literally it means "many feet." It has 8 arms,  6 out of which have two rows of suckers which, according to scientific studies, are used to manipulate objects and prey and the two rear ones, to scroll through the rocks. The common octopus, unlike other Cephalopoda such as the squid, has no tentacles. Tentacles are long extensions, longer than  arms, which help them capture their prey. This is a good feature to differentiate octopus from squids, as squids, besides 8 arms, also have two tentacles.
As a means of locomotion octopus don't only use their arms; they also have a ventral siphon that helps them swim very quickly by means of high-pressure water-jets.
Like all Cephalopoda, the common octopus has "blue blood" (instead of haemoglobin it has haemolymph, with atoms of copper instead of the iron that blood usually has. The copper oxide gives a bluish tint, while iron oxide is red ).
Its body is soft and without shell, which gives it great flexibility to change shape and the possibility to get into really small cavities.
The octopus skin is another feature that makes them unique beings,  with three types of pigment cells, one of them which causes their colour change, and two others that enable them to reflect and refract light so they can change colour very quickly. Presumably thanks to this they have managed to develop a complex communication system based on changes in colour and texture of the skin, expressing moods, which plays an important role when it comes to mating and also as a way of deterring predators, to which it also misleads by means of ink secretions.
The common octopus has three hearts (two of them which bring haemolymph or "blood" without oxygen to its gills and the third one which carries oxygenated haemolymph to its body) and nine  brains, eight small ones connected to each of its arms and one general one that coordinates all of them. This tuns it into the invertebrate with the most developed nervous system that exists. Its intelligence is comparable to that of some mammals, featuring memory and learning ability.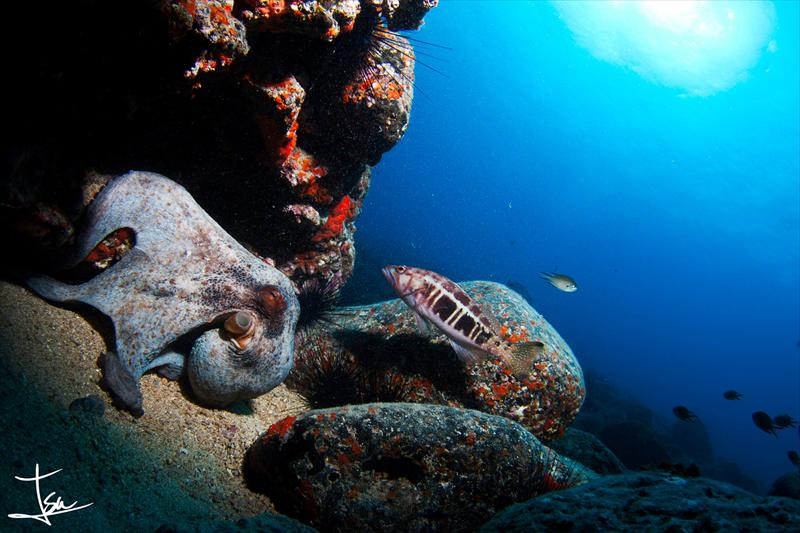 Its head usually measures around 10 inches, and its arms, around 40, although sometimes it can reach a total length of up to 10 feet. Its diet is mainly carnivorous, based on small fish, crustaceans and molluscs, which it crushes with its hardened beak-shaped jaw, similar to parrots'. It usually hunts at night and during the day it remains hidden in the hollows of the rocks.
Cannibalism is usual in this species, especially near the mating season, which usually takes place in spring and autumn, act that makes them be together momentarily as the rest of the time they are solitary animals.
The relationship between height and weight show positive allometry: males are heavier than females at a given size. Longevity in both sexes is usually 12 to 18 months.
The female protects the eggs they lay for 25-65 days. In this period it consistently beats the water to oxygenate it and it doesn't eat, so many of them die when the eggs hatch. Once the eggs hatch, the offspring live as plankton for about two months, until they take the habit of living at the bottom.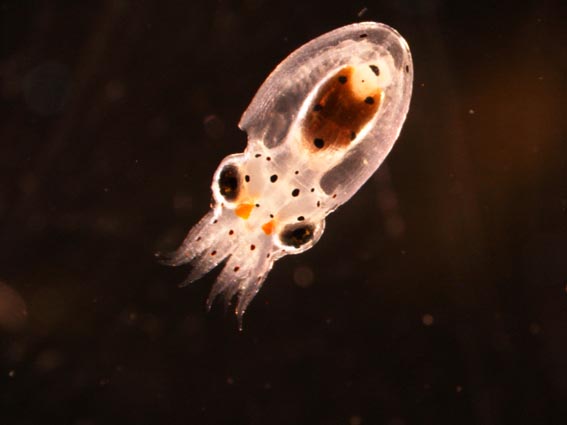 Its delicious flavour has turned the octopus into one of the most popular dishes in Galician cuisine, which has spread to the rest of Spain the way of cooking it (after cooking, it is served sprinkled with paprika, cut into 1cm slices and with olive oil and coarse salt), and it's a real attraction for tourists. This has led to overfishing in recent decades, which has resulted in a decrease in both the number and the size of the specimens.
In the waters off the coast of Fuerteventura and Lobos islet is often common to find  Octopus vulgaris specimens, hidden in puddles and among cliff cavities. In the snorkeling activity we carry out in our trips to the islet of Lobos it can sometimes be observed, though you have to look very carefully as this specimen is a master of camouflage and oversight, and it can vanish in front of our eyes behind a smoke bomb in the form of ink, as if it were a magic trick.
FuerteCharter Team