The arid, wild and pristine islet of Lobos —which we passionately show to the visitors who join our day trips from Corralejo— is one of the few places along with Fuerteventura, Lanzarote and La Graciosa, where one of the most unique bird in the Spanish wildlife lives, the Canarian Houbara. Its habitat are the arid landscapes, "jables" and "malpaís" characterizing the eastern end of The Canary Islands.
The Houbara or Houbara Bustard (Chlamydotis undulata) is a species of "gruiforme" birds from the Otididae family, fully adapted to living in dry and poor lands; It is an omnivore, a terrestrial and lonely bird found from Mauritania to Egypt and from Sinai to Mongolia, the small settlement in The Canary Islands being unique in Europe. The subspecies inhabiting our islands is fuerteventurae, which is endemic to The Canary Islands.
Description
Thin and elongated neck, grey and white shades, it features a comb or small bun of black and white feathers, usually flashier in the male. The chicks, more similar to males, have the duller plumage. Actually this bird seeks to go unnoticed, is easily scared and jealous of its privacy and it seeks to be relaxed for survival so its plumage usually blends in with the landscape except in the mating season. With 170 cm wingspan, it is the largest bird nesting in The Canary Islands. Their diet is varied both animal matter (beetles, grasshoppers, ants, caterpillars, snails and small lizards) and plants (flowers, sprouts, fruits and seeds).
Although the Canarian Houbara is sedentary it can act like the migratory birds, making journeys in search of similar habitats and even flying between islands.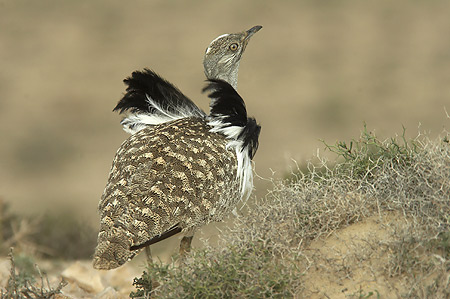 Reproduction, wooing and breeding
Regarding the breeding season, although variable, we can say that it normally starts between February and March and it begins with a wooing which is most interesting since the male performs solo shows, a real dance in which their plumage become more attractive so as to draw the females attention; they spread out the white feathers on their crest and neck, moving in circles and straight; from a distance a flashiest white ball, which changes colour, can be seen, a spectacular wooing dance.
Once the female is captivated , after copulation, the male ignores the upbringing and it's the female that is in charge alone. It usually lays two or three eggs which she incubates for about 23 days, after which the eggs hatch and the chicks are able to move soon after being born and they will be raised by their mother for about 35 days; perhaps occasionally the male may cooperate, but not generally. The chicks usually remain with their mother until the autumn.
This endemic bird of the islands, so special and of which we may have about 800 specimens in the archipelago, is listed as an endangered species, threatened with losing their habitat, their peace and quiet, as a result of urban and tourism development and, particularly in Fuerteventura , by the new highway that goes through the quiet and sparsely populated areas that have become home to these peculiar and solitary birds. For the preservation and survival of the species it is essential to protect their habitat.


Threats and preservation
The preservation measures started in 1985 with the drafting of a recovery plan and management programs, education and awareness and implementation of a captive breeding plan. Since 1993, SEO / BirdLife is carrying out preservation projects in Fuerteventura, subsidized with funds from the EU LIFE program. In 2005, this NGO acquired a 200-acre farm, El Cercado de El Jarde, aimed to protect this species, where 18 specimens have been living along with several other species of the "majorera" wildlife.
It 's a bird that could be classified as difficult to see despite being a terrestrial animal since, as we previously said, it's very jealous of its privacy, but let's not lose hope because it is common to see it in very quiet areas running around elusively among the gorse. If you are a respectful traveller and concerned about respecting the peace and quiet in these arid areas they inhabit you are much more likely to enjoy them. As for us, on our trips to the Islet of Lobos from Corralejo, we are very attentive when we set foot on the islet because although it is not the most common bird sometimes we are lucky to see them running around in this little paradise that The Islet of Lobos is. 

FuerteCharter Team