Despite the aridity that characterizes our paradise, Fuerteventura has several wetlands of great importance, but above all there is one that draws our attention particularly because we visit it on our daily excursions from Corralejo; this is known as "Las Lagunillas de la Isla de Lobos".

But what is a wetland?
"A wetland is an area of land that is temporarily or permanently flooded, due to climatic factors, and in constant interaction with the creatures that inhabit it". They are also "The areas of marsh, fen, peat-land or water surfaces, either natural or artificial, permanent or temporary, static or flowing, fresh, brackish or salt, including areas of marine water whose depth at low tide does not exceed six meters. " Ramsar Convention.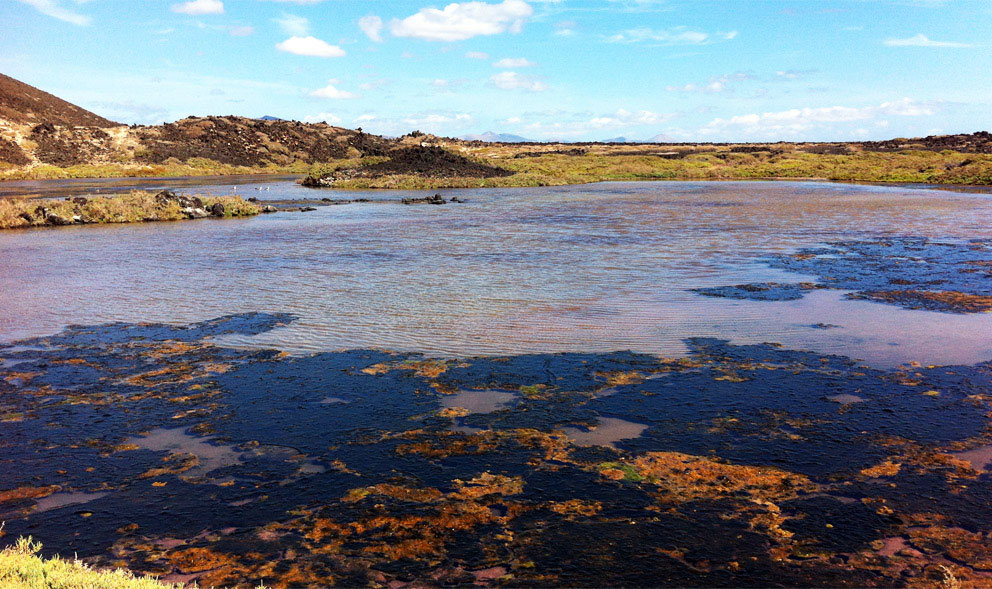 Fuerteventura Wetlands
On our island, because it is a semi-arid area, wetlands are critical to the survival of both plants and animals, especially some birds we have so much discussed in this blog. As we have told you many times, hundreds of birds find in the wetlands of Fuerteventura the ideal shelter to spend the winter, rest or carry out important tasks such as breeding.
Ramsar Convention
Since 1971 the Ramsar Convention has been an international instrument for the protection of these important ecosystems. In 1982 this Convention is enforced in Spain with the inclusion of Doñana National Park and "Tablas de Daimiel" as wetlands, and in 2002, what had been a marginal area in Fuerteventura, annexed to the beaches, "El Saladar de Jandia", was included, thus becoming a main place in the work of restoration of biodiversity in the island. This wetland covers an area of 1,270,000 m2 and so far it's the only one in the Canary Islands which has been included in the Ramsar Convention.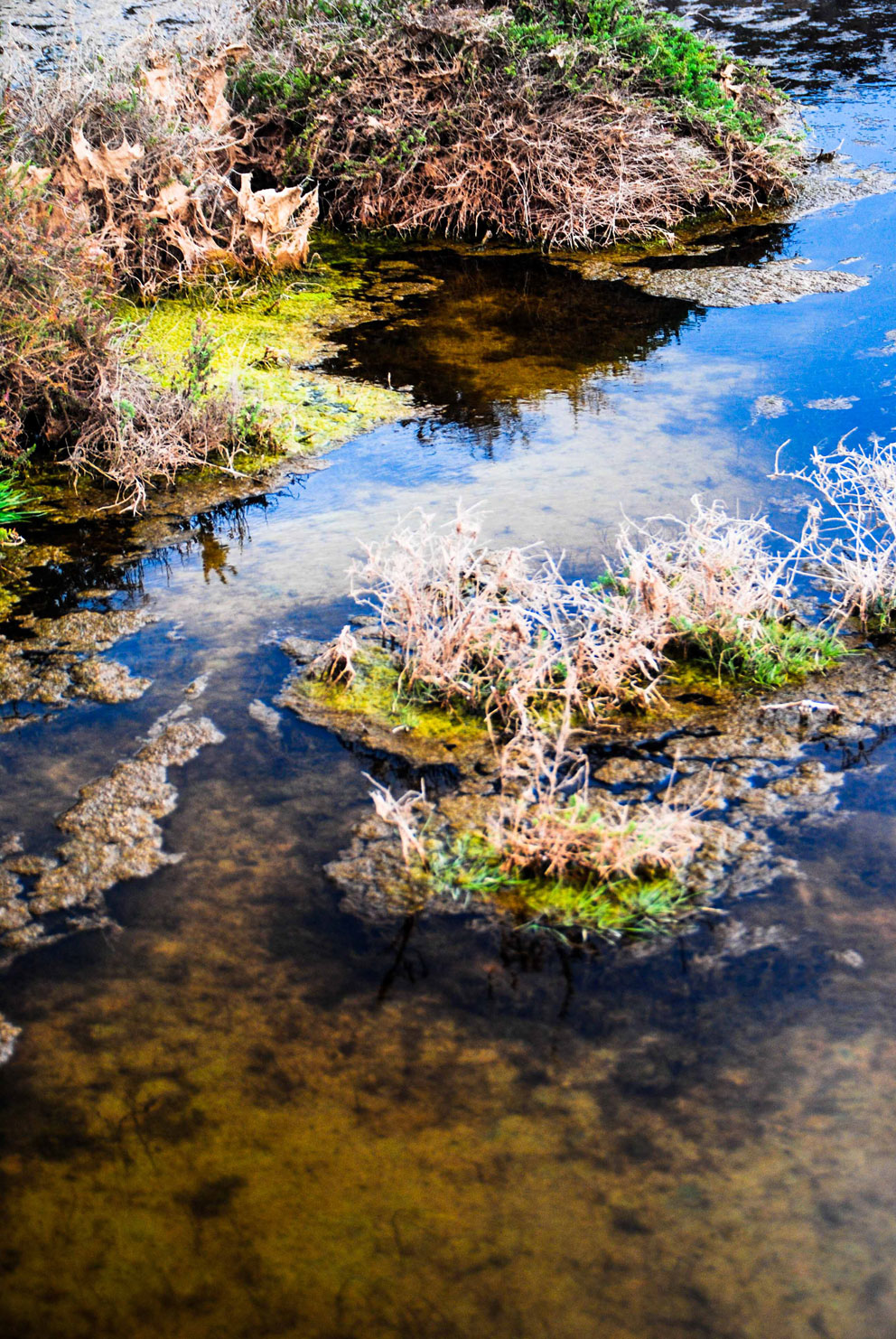 Most characteristic wetlands in Fuerteventura
But as we mentioned, Fuerteventura has important wetlands scattered throughout the territory and whose visit is a must for bird lovers that visit us year after year; this year with the "abundant" rain falls in January the wetlands are even more resplendent.
The best known: "El Barranco y La Presa de los Molinos" and "Las Fuentes de Chupadero" in Matilla (Puerto del Rosario), " Las charcas de Rosa" belonging to Catalina Garcia (Tuineje), "La Presa de Las Peñitas" and "El Barranco de El Junquillo" (Betancuria).
One of our favourite wetlands, which we visit daily on our trips from Fuerteventura to Lobos island, is known as "Las Lagunillas del islote de Lobos". It's a salt marsh near the coast which is affected by the tide flow; the sea water is retained there and ponds or lagoons are formed; they're parallel to the coast, which allows the settlement of endemic plant species and also some of the least representative plants in of our archipelago. All these species have in common their adaptation to high salinity conditions.

Major wetland birds settled in Fuerteventura:
Ruddy Shelduck (Tadorna ferruginea), the coot (Fulica atra), the common stilt (Himantopus himantopus), the Kentish plover (Charadrius alexandrinus), the sanderling (Calidris alba), Common Sandpiper (Actitits hypoleucos), the marbled teal (Marmaronetta angustirostris), Eurasian Spoonbill (Platalea leucorodia), little egret (Egretta garzetta), gray heron (Ardea cinerea), clear redshank (Tringa nebularia), Ruddy turnstone (Arenaria interpres), the whimbrel (Numenius phaeopus )
The vegetation that stands out in the wetlands of Fuerteventura:
Halophytic vegetation formed by "el mato" (Sarcocornia fructicosa), Shrubby sea-blite (Suaeda vera) and "la uvilla" (Zygophyllum fontanessii); the reed (Phragmites australis), "el tarajal" (Tamarix sp.), the sea lavender from Lobos (Limonium bollei) endemic to the island. They are plants adapted to high salt conditions, even resisting periodic seawater floods.
Need for conservation and protection
We must not forget that they are ecosystems very threatened by myriad factors, particularly construction; we must work for their preservation, as they are true sources of life and biodiversity.
The Ministry of Environment of Fuerteventura Council, from its different departments-biodiversity, environmental education … – is developing activities for the protection and preservation of these habitats, among which fencing, placement of informative posters and performing activities such as visits to different wetlands stand out, as they depart from the idea that preservation and protection begin with knowledge of the values we have in the island.
World Wetlands Day, February 2nd
Every February 2nd the signing of Ramsar Convention is commemorated, this day being the World Wetlands Day.
From the Council they organize school visits to the different wetlands in Fuerteventura, so as to raise awareness and educate.
We invite you to celebrate this day, and of course to come and know some of these wetlands in our island, which so much surprise our tourists, as they don't expect to find water sources within this land, so especially arid.
Of course, as our mission is to present this wonderful wild and virgin stronghold which the Islet of Lobos is, where we go on our daily trips around Fuerteventura, we can not deny that the salt marsh known as "Las Lagunitas" is our favourite, and the one we most highly recommend.
FuerteCharter Team